Good morning, Portland! Here's your to-go cocktail recommendation of the week: margaritas and mojitos with a twist at Lebanese-Mediterranean spot Nicholas Restaurant.
Sponsored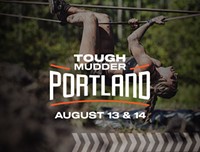 Lock in your summer adventure, Portland. Join us for world famous obstacles over a 5K or 10K distance.
And here are the headlines.
• Bad news: Oregon reported 989 new COVID-19 cases yesterday, the highest number we've seen in months. Eleven counties are on the precipice of re-entering the "extreme risk" category, and the state is close to having over 300 COVID hospitalizations. Here's what you can do about it: Continue to wear your mask and practice physical distancing, and get your vaccination if you haven't yet!
• President Joe Biden promised that the United States will cut its greenhouse gas emissions in half by 2030 at a global climate summit this morning. It's a bold goal, and it'll be great if it happens—but it's still not entirely clear how it will happen.
• New Mars dispatch:
#MarsHelicopter Flight #2 is in the books! I've captured its higher, bolder flight, and I'll be sending back all my latest frames soon. Meanwhile, here's a quick preview, including takeoff and two turns. pic.twitter.com/MmNOuIQ8ly

— NASA's Perseverance Mars Rover (@NASAPersevere) April 22, 2021
• Yesterday, Portland City Council approved $150,000 in funding for a pilot program that aims to curb evictions by providing mediation between landlords and tenants with disputes. The program will be small to start—between 70 and 100 cases during the pilot phase—but has the potential to grow if successful.
• Our neighbors to the north have approved a new law that will allow bars and restaurants to sell cocktails-to-go for at least two more years in Washington state. Oregon's to-go cocktail policy is currently set to expire 60 days after Governor Kate Brown lifts her state of emergency for the pandemic.
• Indiana has a "red flag law" intended to take guns out of the hands of people who are suicidal or talk openly about using them for violence. That law was almost used against the mass shooter who targeted a FedEx facility in Indianapolis last week—but prosecutors chose not to pursue it in court, meaning the shooter got to have a gun and use it to kill eight people and himself. Read more about the fraught dynamics of red flag laws here.
• 👀
House Democrats expect to pass D.C. statehood — and launch bill into uncharted territory https://t.co/zpT0sxjiHY

— The Washington Post (@washingtonpost) April 22, 2021
• News broke yesterday that the United States Postal Service is running a "covert operations program" that monitors people's social media usage, finds supposedly "inflammatory" posts, and shares them with other government agencies. Funny how they can do all that and still take A WEEK AND A HALF to send me my latest online shopping order!
• Next week, Biden will give more details about his American Family Plan, legislation that's supposed to increase funding for child care and education. Achieving those goals will likely involve taxing the rich. Hell yeah.
• Let's celebrate! The Portland Mercury's PIZZA WEEK is back, running through Sunday, April 25! Check out all the slices you can score for a measly $2 each! (Whole pies are available, too!)
• And finally, here's some feel-good news wrap things up today:
THANK YOU... to all y'all for your passionate support! I am overjoyed, excited, and eager to be guest-hosting Jeopardy!, and will do my utmost best to live up to your faith you in me. YOU MADE A DIFFERENCE! Go ahead and take my word for it, this time. https://t.co/C7mZWMok2X

— LeVar Burton (@levarburton) April 21, 2021
Sponsored
Virtual Auction Event & Drag Queen Fashion Show. You won't want to miss this show!