Portland's South Waterfront is sort of a wasteland. It's a very
nicely designed
wasteland, with plenty of space set aside for walking, running, cycling, public transit, and even
sitting
. But say you're walking across the cool, neon-lit Tilikum Bridge and you need something to drink or snack? The one oasis—from the Riverplace Marina curve to the Ross Island Bridge—is Olia Poke & Tea.
Sponsored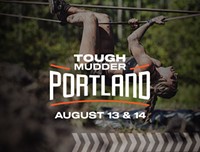 Lock in your summer adventure, Portland. Join us for world famous obstacles over a 5K or 10K distance.
Even without their dominance on location and scarcity, Olia Poke & Tea is a dynamite fresh bite. But in that refreshment desert on South Moody, Olia becomes a downright destination for lovingly made poke bowls, crisp banh mi, and fresh, minty salad rolls.
In the fall of 2019, Anh Tram Nguyen opened Olia Poke & Tea on the ground floor of the OHSU Knight Cancer Research Building. She named the cafe with a portmanteau of the names of her two kids, Olivia and Liam.
Olia's main focus—their customizable poke bowl—is a marriage of Hawaiian poke and Vietnamese vermicelli bowls. The end result becomes a gorgeous rainbow of ingredients like tuna, salmon, cucumber, pickled radish, green onion, crab salad, and many other options. Each bowl is one hundred percent what you select, which will be intimidating to some who would like to order something pre-picked.
Due to the pandemic, Olia is currently only offering takeout and delivery. It should not be understated that ordering via the pick-up option on Olia's site DOES provide the opportunity to hover over options to your heart's content—really get in there and CONSIDER pickled radish. They also have the option to set your pick-up to a specific time, later in the day, for those who want to plan and avoid the 15-30 minute ordering window juggle.
Olia is extremely vegan and veggie friendly. This extends not only to their bowls—where Ota's fried tofu and fried tofu with green onions are options—but also the other two prongs of their menu: banh mi sandwiches and goi cuon salad rolls. Both are slightly less customizable (you can only choose the protein), but generally include the ability to leave off potentially offending items like cilantro, jalapeños, or mint.
If you do choose to GET THAT MINT, their salad rolls have so much delightful and flavorful mint that it makes you want to call your mother up and say, "I knew I could eat that stuff in the yard, and now I'm doing it, no matter what you say."
Olia Poke & Tea, 2720 S Moody, (971) 808-6921, oliapdx.com
Sponsored
Virtual Auction Event & Drag Queen Fashion Show. You won't want to miss this show!