The Mercury provides news and fun every single day—but your help is essential. If you believe Portland benefits from smart, local journalism and arts coverage, please consider making a small monthly contribution, because without you, there is no us. Thanks for your support!
Sponsored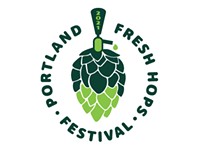 Come celebrate fresh hop season! With over 50 fresh hop beers, there's something for everyone!
Good morning, Portland! And congrats on making it through literally the hottest day ever here. We can look forward to relatively cooler temperatures the rest of the week—but that certainly doesn't mean we're out of the clear when it comes to a changing climate. Here are some different ways the heatwave impacted Portlanders:
• About 200 Oregonians sought emergency medical care due to heat-related illnesses during the heatwave.
• The heatwave is also threatening one of the Pacific Northwest's most popular crops, cherries, as well as the farmworkers who pick them. As KGW reported, those farmworkers took on overnight shifts to avoid working in the heat of the day.
• Other workers were impacted by the Portland heatwave—perhaps none more severely than the city's food service workers. While many restaurants and food carts simply shut down during the highest temperatures, other had their employees working over hot grills as air conditioning failed to keep up with the heatwave. Voodoo Doughnut employees went on strike after working through unbearable heat over the weekend.
• And here's a bigger-picture reminder that where you live in Portland—and in turn, your race and income level—might have helped shape just how badly you felt the heat this week.
• In other important local news:
Michael Ray Townsend called 911 himself seeking mental health help before he was shot and killed by a police officer. He also informed first responders he had a weapon. https://t.co/chBrF1VpOH

— J Levinson (@_jlevinson) June 29, 2021
• Moving over to Florida, it turns out that the board president of the condo tower that collapsed last week sent a letter back in 2018 about the building's decay, noting that "the concrete deterioration is accelerating." But engineers still aren't entirely sure what caused the building's sudden destruction.
• The US Supreme Court ruled this morning that the government doesn't have to grant trials to immigrants seeking asylum before deporting them. It was a 6-3 ruling—this is the Trump legacy in action.
• California Attorney General Rob Bonta banned non-essential, state-funded travel to five states that have recently passed anti-trans bills, saying that the legislation goes against the state's commitment to not discriminate against LGBTQ+ people.
• Here's a fascinating write-up about a recent strike on TikTok, in which Black content creators refused to make new videos after seeing their culture ruthlessly ripped-off and capitalized on by their white counterparts. This coincided with the ascendance of the new Megan Thee Stallion song "Thot Shit," and the Black creator strike ensured that there were no infectious new dance videos set to that track.
• And finally: This song was my soundtrack over the last few days, for very obvious reasons. The world may be getting hotter and hotter, but at least we've still got good music.