Good morning, Portland! We're entering the last week of July (!!!) on a predictably hot and dry note: Expect highs in the high 80s to low 90s for the rest of the week, and no raindrops in sight. One way to stay cool this week: Take yourself on a date to one of Portland's indie cinemas, and check out their post-COVID updates! Now, the news:
Sponsored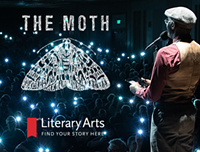 Literary Arts presents The Moth: Portland Mainstage. True Stories, told live. Held at Arlene Schnitzer Concert Hall.

- Portland officials celebrated the city's "reopening" in downtown Portland this weekend with a free Pink Martini show in Pioneer Courthouse Square and the grand opening of a new food cart pod. It was even enough for some businesses to cautiously remove the boards from their windows. I can't help but wonder… is Portland still over?
- It's no surprise that Portland is expecting one of the worst environmental catastrophes in the world when the major Cascadia earthquake hits. But a new report has confirmed this threat, emphasizing on the damage that could be caused by the fuel-holding tanks that sit on the banks of the Willamette River.
- Wildfires continue to rage across the West, including areas of Northern California, Idaho, Washington, Montana, and—of course—Southern Oregon. While officials say that the spread of Oregon's sprawling Bootleg Fire has slowed, the blazes remain less than half contained.
- After a public callout, Portland beer bar and bottle shop N.W.I.P.A. will be changing its name to North West IPA. For years, the white-owned bar has used a typeface clearly modeled after the all-black 90s hip-hop group N.W.A. After a Black Portlander made a viral TikTok video accusing the bar of appropriating Black culture, it's getting a makeover.
Early this morning white nationalists defaced a Portland mural depicting the faces of George Floyd, Breonna Taylor, and Ahmaud Arbery. Then over a dozen people showed up today to help the artist restore it. https://t.co/zIbNYdXIAM
— pdx law grrrl (@pdxlawgrrrl) July 26, 2021
- Despite what you may believe based on reactionary headlines, Portland isn't the only US city currently dealing with a spike in violent crime. As crime rises in metropolitan areas across the US, Democrats in Congress are hoping to address the crisis without putting their seats at risk of a GOP win in 2022.
- The State of Mississippi has formally asked the US Supreme Court to reverse its landmark Roe v. Wade decision protecting a person's right to an abortion. "The conclusion that abortion is a constitutional right has no basis in text, structure, history or tradition," state attorneys write. It's very likely that this will be taken up by the high court, as justices agreed to reconsider Roe earlier this year.
- The Olympics began, I guess, despite no one tuning in. Team USA has started the games strong, with its swim team collecting six medals on opening day, a women's soccer win against New Zealand, and USA's first-ever goal medals in women's foil (fencing) and women's taekwondo.
- Today in "catering to abusive white men":

A US fencer facing sexual assault allegations made it to the Olympics and has a team "safety plan" to keep him away from women https://t.co/FUe7RqUu7x
— BuzzFeed News (@BuzzFeedNews) July 25, 2021
- A week after floods ravaged Germany and Belgium, China has been hit with equally devastating floods, leaving more than 1 million people displaced from their homes. Climate change is here, ya'll.