The Mercury provides news and fun every single day—but your help is essential. If you believe Portland benefits from smart, local journalism and arts coverage, please consider making a small monthly contribution, because without you, there is no us. Thanks for your support!
Sponsored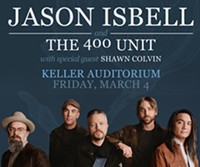 Jason Isbell has established himself as one of the most respected songwriters of his generation. Don't miss Jason Isbell and the 400 Unit, March 4th at Keller Auditorium!
Good morning, Portland
! Here, I've got a treat for anyone else who's been living for this
Jeopardy!
drama:
How journalism saved 'Jeopardy!' from an unworthy host after an utter failure of corporate vetting. My column (hey, it's late August…) https://t.co/XJjxDjyK5D
— 💫 Margaret Sullivan (@Sulliview) August 23, 2021
And here are the rest of the headlines.
• The drought in Southern Oregon is continuing to have drastic effects—now, homes are losing running water, along with farms and ranches. "I can't take a bath. I can't clean my house. I can't cook," one homeowner told a reporter.
• Meanwhile, on the home front, Mayor Ted Wheeler took his sweet time before issuing a truly inscrutable statement that seemed to claim victory over Sunday's far-right invasion into Portland. Wheeler's statement claimed that "The community at large was not harmed and the broader public was protected." I think Parkrose residents would beg to differ:
Portland Mayor Ted Wheeler claims policing strategy worked as Parkrose residents reel from unchecked political violence in their midst. https://t.co/i7uj2GVm9C
— OPB (@OPB) August 24, 2021
• And here's a nice little cherry on top of it all: The Oregonian found that Portland cops are among the city's highest-paid employees; one officer made $299,844 in 2020.
• CIA Director William Burns met with Taliban leadership in Kabul yesterday, as the United States continues to ramp up its (initially piss-poor) efforts to evacuate Americans and Afghans who aided the US military. The Taliban is reportedly unwilling to grant an extension to the August 31 deadline for getting the hell out.
• Kathy Hochul was sworn in as governor of New York early this morning, as Andrew Cuomo leaves the office in disgrace (and without his dog). This means there are now nine US states who have women serving as governor, which is apparently a new record!
• Vice President Kamala Harris delayed her planned trip to Vietnam this week, after a diplomat in Hanoi came down with a possible case of "Havana syndrome"—a strange illness affecting US diplomats first noted in Cuba.
• 🤦
Since May, school vaccination clinics in rural Oregon have drawn protests and complaints. This month, a Clackamas County district canceled a clinic amid accusations of bribery for offering $50 to anyone who came in for a jab. https://t.co/rJUlg8Knfi
— Señor Eder Campuzano 🇲🇽🇺🇸🍎🎒✏️📰 (@edercampuzano) August 24, 2021
• Some important news for all you Vancouver commuters: Washington state's renewed indoor mask mandate is now in effect.
• Alert! The Mercury has combined three of our world-famous film festivals into one, big, sexy, stoney, scary, movie showcase called the Mercury Movie Mashup! It's the best of the best from SPLIFF (our stoner film fest), SLAY (our horror film fest), and HUMP! (the little porn festival that started it all!), featuring all the blood, sex, and weed you can handle in a ONE NIGHT ONLY show at the Clinton Street Theater—go get those tix now!
• And finally, here's a pretty good cat:
pic.twitter.com/summKhBLdd
— Bodega Cats (@Bodegacats_) August 21, 2021