The Mercury provides news and fun every single day—but your help is essential. If you believe Portland benefits from smart, local journalism and arts coverage, please consider making a small monthly contribution, because without you, there is no us. Thanks for your support!
Sponsored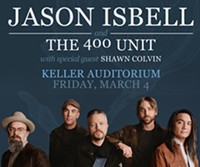 Jason Isbell has established himself as one of the most respected songwriters of his generation. Don't miss Jason Isbell and the 400 Unit, March 4th at Keller Auditorium!
In local news:
• Most Oregonians must wear masks in outdoor public settings starting this Friday, Governor Brown announced today. BRB, I'm going to mute the phrases "constitutional rights," "tyranny," and "Orewellian" on Twitter.
• Yes, a one-stop shop for your grocery essentials is a wonderful modern convenience, but there is no better place to indulge in the joy of food than a specialty store! Blair Stenvick has your guide to three speciality food stores in Southeast Portland for all of your masa, fish, and gourmet needs.
A Portland-based Instagram account with 86,000 followers briefly disappeared sometime Monday afternoon, just hours after its moderator posted a graphic video of a murder. https://t.co/5jfXoHsMS0
— Willamette Week (@wweek) August 24, 2021
• Public schools in Oregon will provide free period products to elementary through high school students this year, in accordance with the new Menstrual Dignity Act. The program aims to relieve economic strain and lower barriers for menstruating students to actively participate in class.
Street racing shuts down southbound 1-405 on Fremont Bridge Sunday night https://t.co/39QyjgmHh0 pic.twitter.com/ggCg17bkMB
— The Oregonian (@Oregonian) August 23, 2021
In national news:
• A COVID-19 vaccine likely won't be approved for children under 12 until the end of the year, according to the director of the National Institute of Health.
• Despite the Taliban's take over of Afghanistan and resulting emergency evacuations from the country, President Biden is still aiming to remove US military forces from the region by August 31. The decision to stick to the deadline goes against some allied leaders' asks for more time for evacuations.
pic.twitter.com/wi6333F6QF
— The Rolling Stones (@RollingStones) August 24, 2021
• More than 80 school districts across the country have returned to virtual learning only a couple weeks after beginning the school year with in-person learning. The Delta variant has exploded amongst unvaccinated people—many of whom are school-aged—causing COVID-19 outbreaks in schools. In Georgia, more than one in every 100 school-aged children have tested positive for COVID in the past two weeks.
U.S. House passes $3.5 trillion budget blueprint after Democratic leaders reach a deal with the party's moderates. The vote ends a risky standoff and puts the party's domestic infrastructure agenda back on track. https://t.co/VmichNVjRD
— The Associated Press (@AP) August 24, 2021
• Hey Savage Love fans! Get your tix now to see Dan Savage live and in-person on October 2 for a reading of his newest book, Savage Love from A to Z, an illustrated collection of 26 never-before-published essays! (Plus, paid attendees get their own copy of the book!)
• Alert! We've combined three of our world-famous film festivals into one, big, sexy, stoney, scary, movie showcase called the Mercury Movie Mashup! It's the best of the best from SPLIFF (our stoner film fest), SLAY (our horror film fest), and HUMP! (the little porn festival that started it all!), featuring all the blood, sex, and weed you can handle in a ONE NIGHT ONLY show at the Clinton Street Theater—go get those tix now!
• And finally, I know I include zoo animal videos at the end of most of my headline round-ups, but can you blame me? Listen to the little crunchy noises of this otter chomping on a sea urchin!
Lincoln searchin for urchin pic.twitter.com/Bh4DXcJ6RB
— Oregon Zoo (@OregonZoo) August 24, 2021