The Mercury provides news and fun every single day—but your help is essential. If you believe Portland benefits from smart, local journalism and arts coverage, please consider making a small monthly contribution, because without you, there is no us. Thanks for your support!
Sponsored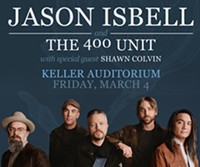 Jason Isbell has established himself as one of the most respected songwriters of his generation. Don't miss Jason Isbell and the 400 Unit, March 4th at Keller Auditorium!
Good afternoon, Portland! Here's the latest on local news, national news, and a little bit of fun.
In local news:
• State representatives and Multnomah County legislators are calling for the City of Portland to shut down Zenith Energy, an oil transport company seeking to expand its terminal along the Willamette River. Environmental advocates are grateful for the support, but are still anxiously awaiting the city's decision. Our own dogged environmental reporter Isabella Garcia has more details here!
• The new school year starts next week, and kindergarten enrollment numbers at Portland Public Schools are down nearly 15 percent from last year—and enrollment is also down among older grades. The district says those gaps should decrease before the school year actually begins.
• More and more Portland venues, big and small, are beginning to require proof of COVID-19 vaccination upon entry. That now includes the Moda Center and the Veterans Memorial Coliseum, home of the Trailblazers and the Winterhawks, respectively.
• Thanks to Oregon's archaic and short-sighted "tax kicker" rule, the state will likely have to return $1.9 billion in tax revenue to state taxpayers next year. Good thing that money can't go toward mitigating pressing state issues like our shitty transportation infrastructure or the housing crisis!
In national news:
• Checking in on Afghanistan: Secretary of State Antony Blinken estimates that about 1,500 Americans are still in the country, and are awaiting evacuation. The clock is ticking, as President Joe Biden set a withdrawal date of August 31—this coming Tuesday.
• Hell yeah:
It is considered to be the first monument of a transgender person in the city park system. #LGBTQ https://t.co/UOmqoTDjCK
— LGBTQ Nation (@lgbtqnation) August 25, 2021
• Dylann Roof, who shot and killed nine congregants at a South Carolina Black church in 2015, lost his federal appeals court hearing today. "No cold record or careful parsing of statutes and precedents can capture the full horror of what Roof did. His crimes qualify him for the harshest penalty that a just society can impose," a three-judge panel wrote in its ruling.
• Down in California, a massive wildfire that has already burned hundreds of houses is now headed toward Lake Tahoe. Ash and smoke is making the town unbearable for locals and tourists alike.
And just for fun:
• If you love sex, weed, and having the crap scared out of you, do we have a movie event for you! It's called the MERCURY'S SUMMER MOVIE MASHUP—and it's showing live and in-person at the Clinton Street Theater on Friday, September 10 and Saturday, September 11!
• And finally, you'll want to read this fun profile of a local mother-daughter YA author duo:
"Whining and crying parents...say we can't put any sex in our books because, 'Then my teen will want to have sex!' Well, newsflash, okay. Your teenagers don't need to read my book to want to have sex."
Read more from local YA authors P.C. and Kristin Cast:https://t.co/PUfLhoIz0D

— Portland Mercury 🗞 (@portlandmercury) August 25, 2021