Get ready for one of the most delicious weeks of the year! The Mercury's WING WEEK returns Oct 4-10 with 24 creative wing dishes from your fave restaurants and bars—and they're only $6 per plate! YES, PLEASE!
Sponsored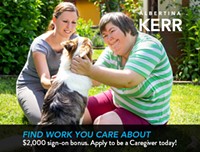 Become an Albertina Kerr Caregiver & help people experiencing intellectual and developmental disabilities.
Good morning, Portland! Hear that drizzle outside? It's bound to last until Tuesday evening, according to the National Weather Service. (If we're lucky, there may even be a thunderstorm or two thrown in!) Now, for the the headlines:
- On Friday, thousands of Portland teens and pre-teens cut class and marched to City Hall to demand a stronger response to climate change by local and state lawmakers. Mercury reporter Isabella Garcia tagged along to tell the story.
- A Multnomah County grand jury determined Friday that the Portland cop who fatally shot Robert Delgado in April shouldn't face criminal charges. But Delgado's family isn't finished fighting for justice.
- Records obtained by the Mercury show how Mayor Ted Wheeler is following a community recommendation to send letters of condolence to the families of victims who've been killed by Portland cops. According to those who made the initial recommendation, Wheeler's letters are missing the mark.
- Oregon House Republicans are (surprise!) throwing a wrench in the Oregon Legislature's redistricting process. By not showing up to the Oregon Capitol Saturday, GOP lawmakers are keeping the controversial map-drawing process from moving forward. If the delay continues past today, the process will be handed over to Secretary of State Shemia Fagan and the courts.
- According to the Oregonian's number-crunching, COVID-19 rates among Oregon children ages 9 and younger are slightly higher in September than for someone in their 60s and older. (This is a first).
- There's a lot going on here:

One of the most sought boudoir photographers in the Southeast and champion barrel racer Matt Mathews is fighting back after he says state officials swarmed his property and took his opossum. https://t.co/UD02swGAqr pic.twitter.com/7lnSOtvc9h

— AL.com (@aldotcom) September 26, 2021
- New York may turn to the National Guard to help replace thousands of health care workers who have refused to get vaccinated. Seems normal!
- The left-of-center Social Democrats have come out victorious in Germany's national election, beating current Chancellor Angela Merkel's right-of-center Union political party in a close race. (Also, today I learned that Germans vote for party, not politician, in national elections.)
- Switzerland voted to legalize same-sex marriage Sunday! This is great news, but I'm also slightly shocked that the Swiss were this far behind!?
- The Tony Awards took place Sunday evening, and somehow left us with this excellent David Byrne performance:
.@DBtodomundo BRINGING down the house with that performance of "Burning Down the House" from @americanutopia! #TonyAwards pic.twitter.com/rxATHbnEAX

— CBS (@CBS) September 27, 2021