The Mercury provides news and fun every single day—but your help is essential. If you believe Portland benefits from smart, local journalism and arts coverage, please consider making a small monthly contribution, because without you, there is no us. Thanks for your support!
Sponsored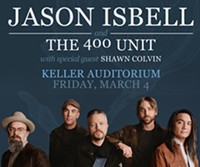 Jason Isbell has established himself as one of the most respected songwriters of his generation. Don't miss Jason Isbell and the 400 Unit, March 4th at Keller Auditorium!
• First things first, the most delicious week of the year HAS FINALLY ARRIVED! The Mercury's WING WEEK is happening all this week (Oct 4-10) with 24 creative wing dishes from your fave restaurants and bars—and they're only $6 per plate! GET YOUR WINGS ON.
IN LOCAL NEWS:
• Portland Thorns owner Merritt Paulson has written a public apology to the players who say they were sexually harassed and coerced by former coach Paul Riley. He added that the owners and management should have been more transparent when they investigated Riley's actions in 2015, and also mentioned the current steps they're taking to avoid such incidents in the future. However he didn't explain why Thorns management spoke about Riley in such glowing terms after letting him go, and why they neglected to mention anything about the accusations at the time. If you want more background on this evolving story, check out this article from Abe Asher.
Sources tell Just Women's Sports that several players on the call said they wanted Portland Thorns GM Gavin Wilkinson to be fired, with some even arguing that owner Merritt Paulson should sell the team. https://t.co/tSnNrw0fwL

— Zakir Khan (@ZakirSpeaks) October 4, 2021
• Nearly 3,400 Oregon healthcare workers at Kaiser Permanente are prepping to go on strike after contract negotiations between management and workers across the country stalled out. Abe Asher has the details.
• Another member of the Multnomah County Commission, Lori Stegmann, has thrown her hat into the ring for the job of Chair that's being vacated by a termed-out Deborah Kafoury. Co-commissioners Jessica Vega Pederson and Sharon Meieran are also vying for the seat. Our Isabella Garcia has more.
• Calling all rhino fans: The Oregon Zoo is welcoming King—an 8-year-old 3,000 lb. rhinoceros—into their family, and they're expecting a female rhino to join him later this fall.

King, a 3,000 pound black rhinoceros, is making himself at home at the zoo's new Rhino Ridge. All hail the 👑!

📷 by Michelle Schireman pic.twitter.com/tPZLqi37mZ
— Oregoth Boo (@OregonZoo) October 1, 2021
IN NATIONAL/WORLD NEWS:
• Slapping down a Trump-era rule, the Biden administration has reversed a ban on abortion referrals made by the federal family planning program first instituted during the Obama years.
• Today in BOO-HOO-HOO: Facebook and Instagram crapped the bed worldwide for most of the day and still isn't quite right—though it was never "quite right" was it? Anyway, at this point nobody quite knows what happened.
tumblr when the rest of social media falls and we all come crawling back pic.twitter.com/OACVnTaNNq

— brittany boo (@brittania_) October 4, 2021
• Former Facebook product manager Frances Haugen has come out as the whistleblower who accused the tech giant of ignoring warnings about the site promoting misinformation and extremism—she'll be testifying about that and more Facebook malfeasance in front of Congress tomorrow.
• Investigators are currently looking into the what could've caused a major oil spill off the coast of California, and currently suspect it may have been a ship's anchor striking an oil pipeline on the ocean floor.
• Biden had strong words today for Senate Republicans to "get out of the way" and let Democrats suspend the nation's debt limit to avoid an October 18 deadline that if missed could send the country into credit default. Senate Minority Turtle Mitch McConnell only wants to see failure, so don't expect any help from him.
"For Playboy to have a male on the cover is a huge deal for the LGBT community, for my brown people community and it's all so surreal. A total 'is this even fucking happening right now?' type of vibe. And I'm so pretty."@bretmanrock for Playboy: https://t.co/6iN9yRUF57 pic.twitter.com/3NJGp4J9wU

— Playboy (@Playboy) October 1, 2021
• Get ready for the fun fright of your life with SLAY—the Mercury's short HORROR film fest coming at ya online from Oct 22-31, and LIVE and IN-PERSON at the Clinton Street Theater on Oct 29 & 30! GET THOSE TICKETS NOW.
• And now... THE WEATHER REPORT: Showers return tomorrow with a cloudy, cool high of 58!
• And finally... TRUE FACTS.

Elder Millennials, be warned, you'll probably watch this 10 times pic.twitter.com/518ya8WpiP
— Anne Helen Petersen (@annehelen) October 3, 2021