The Mercury provides news and fun every single day—but your help is essential. If you believe Portland benefits from smart, local journalism and arts coverage, please consider making a small monthly contribution, because without you, there is no us. Thanks for your support!
GOOD MORNING, PORTLAND! I, I got to be your friend now, baby. And I, I-I-I-I would like to move in just a little bit closer. LET'S GO TO PRESS.
Sponsored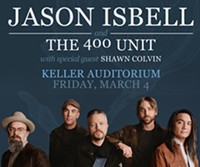 Jason Isbell has established himself as one of the most respected songwriters of his generation. Don't miss Jason Isbell and the 400 Unit, March 4th at Keller Auditorium!
IN LOCAL NEWS:
• DO NOT FORGET! The most delicious week of the year HAS FINALLY ARRIVED! The Mercury's WING WEEK is happening all this week (Oct 4-10) with 24 creative wing dishes from your fave restaurants and bars—and they're only $6 per plate! GET YOUR WINGS ON.
• We have a new candidate vying for Oregon's Most Ignorant Politician™, and it's Josephine County Commissioner Darin Fowler, who last week during a public meeting lambasted vaccine mandates by saying the hilariously stupid, "You have no right to ask me a medical question, Mr. Government!" (Josephine has one of the highest COVID death rates in the state.) During this week's meeting, I think he may have topped himself with the following asinine statement about vaccines made to the public: "You're just going to have to ask God, and pray for wisdom on this one, because you can't trust the politicians, you can't trust the doctors, you certainly can't trust the CDC or any World Health Organization." In response, God said, "You people will elect just about anybody, won't you?"
• Speaking of politicians who aren't the sharpest tools in the shed:

"I do not support mandates for masks. I do not support mandates for vaccines. I do not support sending your kids to school for nine hours with a mask," said Mayor Drinkwine https://t.co/eZgXifRQgx

— Portland Tribune (@ThePortlandTrib) October 8, 2021
• Sorry anti-vaxxers, but you've suffered another loss in the courts. An Oregon Court of Appeals has refused to stop the state's mandate that requires healthcare workers, as well as firefighters and paramedics, to get vaccinated.
• Good news for fans of criminal justice reform: A ruling issued by the Oregon Supreme Court this morning will likely have the effect of clearing all current death sentences in the state, and possibly ending Oregon's death penalty entirely! Our Blair Stenvick has the details on this monumentally important decision.
• Oregon authorities are sounding the alarm about a surge in fake drugs being peddled over the internet, some of which are leading to a surge of overdose cases across the state, and in some instances, death.
• Elite Portland prep school Catlin Gabel is facing yet another sex scandal, and has fired a teacher who stands accused of sexually abusing an eighth grader decades ago. Currently the school is defending itself against 27 people who are suing to collect a combined $80,850,000 in damages.
• Sure, you're smart... but are you PORTLAND smart? Find out by taking the latest edition of the fun, super sassy POP QUIZ PDX, featuring lots of entertaining trivia about local political scandals, oddball history, and this week... a special subjective question about Halloween candy!

Woo-hoo, it's time for the newest POP QUIZ PDX! And it's filled with fun, sassy-ass Qs about your fave topics: zoo animals, Portland con artists (new and old), and mmmmm... Halloween candy! 🍬👻 LET'S GET QUIZZY!https://t.co/gs4rZ6vpwI

— Portland Mercury 🗞 (@portlandmercury) October 7, 2021
IN NATIONAL/WORLD NEWS:
• Thanks largely to the Delta variation of COVID-19, September's hiring numbers across the country fell short of what was expected, but is still showing signs of growth.
Even as the Delta variant begins to subside in the U.S., the country's September job numbers reflect the devastation it caused https://t.co/AHyHva3tVf

— The Daily Beast (@thedailybeast) October 8, 2021
• Senate Republicans have finally agreed to join the Dems in extending the nation's debt ceiling—but it wasn't because of a potential economic catastrophe... they were afraid they were going to lose their precious filibuster.
• A new Senate Judiciary Committee report details the extraordinary lengths Trump went to in his attempt to overthrow the 2020 election, pushing GOP leaders across the country to declare massive voter fraud, and using intimidation tactics against the Justice Department to the point where there were almost mass resignations.
• Meanwhile Trump and his lawyers are advising his former aides—including Mark Meadows, Kash Patel, Dan Scavino, and Stephen Bannon—to ignore subpoenas to appear before Congress and answer questions about the former president's involvement with the January 6 domestic terrorist attack on the capitol. (Good! I'd love to see all these guys in jail.)
• According to documents released by the House Oversight Committee, Trump LIED about the millions his DC hotel was making during his time in office, because in actuality it accumulated over $70 million (!!) in losses. WOMP WOMP!
• Congrats to journalists Maria Ressa of the Philippines and Dmitry Muratov of Russia who have won the Nobel Peace Prize for their work exposing the corruption of their governments.
Dozens of states have tried to end qualified immunity. Police officers and unions helped beat nearly every bill. https://t.co/62XgoLRbYR

— Wesley (@WesleyLowery) October 8, 2021
• Get ready for the fun fright of your life with SLAY—the Mercury's short HORROR film fest coming at ya online from Oct 22-31, and LIVE and IN-PERSON at the Clinton Street Theater on Oct 29 & 30! GET THOSE TICKETS NOW.
• And now... THE WEATHER REPORT: A mostly cloudy day today with a high of 62!
• And finally... SAME BRAIN.

Trying to get my brain to focus when there's clutter in the apartment pic.twitter.com/QQghfSp6D5
— Chelsea Pope (@chelseathepope) October 5, 2021