Healthcare giant Kaiser Permanente and an alliance of unions representing tens of thousands of its workers tentatively agreed to a new four-year contract over the weekend, averting what would have been one the largest healthcare worker strikes in American history.
Some 3,400 Kaiser workers represented in Oregon and Southwest Washington by the Oregon Federation of Nurses and Healthcare Professionals (OFNHP) were among the more than 30,000 workers prepared to strike Monday morning had a deal not been reached.
Workers say that this new contract is a major success for them—proof of the power of labor militancy at a time when the US is experiencing one of its biggest strike waves in years.
"The couple of hours, the couple of days before a strike is when somehow the employers' ears always open widest," Hannah Winchester, a physical therapist and member of the professional unit bargaining team, said. "We're still disappointed that they pushed us to that point, but happy and proud that we said 'Okay, this is what we're willing to do,' and stuck behind it."
Kaiser, by making several concessions, averted what would have been its first worker strike in decades and a severe blow to its longstanding labor-management partnership.
"These were challenging negotiations, but this tentative agreement demonstrates the strength of our Labor Management Partnership and the unique success it can achieve when we work together," Christian Meisner, chief human resources officer at Kaiser, said.
Kaiser and the Alliance of Health Care Unions, which includes OFNHP, had for months been locked in contract negotiations taking place against the backdrop of the COVID-19 pandemic and significant staffing issues at Kaiser hospitals in states like Oregon.
For the union, there were two major issues that needed resolving: the first and biggest was Kaiser's proposal to introduce a new two-tier wage system in which newly-hired employees would make less money than current employees, dividing workers and threatening morale.
The second also had to do with wages: the union wanted a four percent raise for workers, while Kaiser initially offered just one percent.
OFNHP workers felt that Kaiser's offer would only exacerbate the staffing crisis—increasing the odds that disaffected employees would depart the organization, making it harder to recruit new employees, and threatening the quality of patient care.
While Kaiser emphasized its desire to cut costs, workers noted that the conglomerate has raked in billions of dollars since the start of the pandemic and was in a secure enough financial position to return $500 million in aid from the CARES Act to the federal government last year.
They also noted the irony of Kaiser's offer coming just months after nurses and other frontline healthcare workers were hailed as heroes for their work during the pandemic, thousands of whom received an union-negotiated "Heroes' Bonus" from Kaiser earlier this year.
All of those factors contributed to what appeared to be extremely strong support for a work stoppage among Kaiser workers, with 96 percent of OFNHP's membership voting to authorize a strike last month.
From the outset, those workers received substantial community backing. A strike fund set up on GoFundMe had already raised some $17,000 in preparation for a potential work stoppage, while other unions, progressive organizations, and a score of politicians including U.S. Rep. Earl Blumenauer, both of Oregon's U.S. Senators, and State Rep. Maxine Dexter—a Kaiser physician—all lent their support.
Kaiser was preparing for the possibility of a strike as well—recruiting replacement workers in multiple states at substantial cost, offering replacement nurses in Southern California $12,500 per week.
Winchester said that even towards the end of last week she expected to be on a picket line for the first time in her life. But negotiations intensified between the Kaiser and the alliance, and on Saturday, the strike was averted—with the unions getting much of what it desired.
Kaiser killed its two-tier compensation system and ended up offering a roughly three percent yearly wage increase across the duration of the contract; a new staffing committee will also be established to attempt to tackle staffing issues head-on. The contract includes racial justice language as well.
While Burley and Winchester both said that the union must continue its organizing efforts to ensure that the terms of the contract are executed in a favorable way, there is optimism that the deal can provide a foundation for Kaiser to begin to address its staffing issues.
"I think it's a good first step," Burley said. "I don't want to say it's going to solve the problem, because it won't—we have to continue organizing… but it was a really strong first step."
Some of Kaiser's staffing problems are related to broader currents in American healthcare, but there are other pragmatic steps workers feel can take in Oregon—including advocating for a nurse staffing ratio law similar to one that exists in California.
Workers are now in the process of reviewing the contract, and could be prepared to vote to ratify it within the next two weeks. A simple majority is needed to ratify.
That the unions have a contract at all at this point may be a testament to their organizing. Burley said negotiations started to move when workers began authorizing strikes at the beginning of October and then again in the days after they set a strike date.
"It was always in direct proximity to an escalation on our part," Burley said.
Burley said that there is a clear lesson for other workers and unions in how Kaiser workers won this contract.
"The foundation of our power is in our ability to take action, including the ability to withhold labor," Burley said. "It should be a reminder to everyone that these kinds of actions are what gets the goods—not just strategic, coordinated negotiations, but what back them up."
Sponsored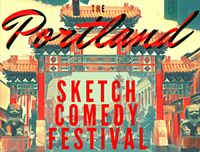 Sketch comedy troupes from all over N. America descend on The Siren Theater for 3 glorious nights.