The Mercury provides news and fun every single day—but your help is essential. If you believe Portland benefits from smart, local journalism and arts coverage, please consider making a small monthly contribution, because without you, there is no us. Thanks for your support!
GOOD MORNING, PORTLAND! What could equal the bliss, the thrill of the first kiss? It'll blow right to you. LET'S GO TO PRESS.
Sponsored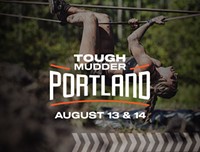 Lock in your summer adventure, Portland. Join us for world famous obstacles over a 5K or 10K distance.
IN LOCAL NEWS:
• Once again a Portland cop is off the hook for killing a person in mental distress. So why does it keep happening? In this engaging/sometimes enraging story by our Alex Zielinski, grand jury transcripts reveal what happened in the police shooting death of Robert Delgado... and why, unless things change, it will keep happening.

I spent the past few days searching for answers in the investigative files and transcripts related to Robert Delgado's death by a Portland cop so you didn't have to: https://t.co/WHWkRQ5vD3

— Alex Zielinski (@alex_zee) November 16, 2021
• Get ready for a shock: The O published a reader opinion piece that actually shows the dark money group People for Portland for what it is, and... let's hear them say it: "As women of color, we see "People" for Portland for what it is: a fear-mongering effort harnessing anger and hate and directing it towards some of the most vulnerable residents of our city." Read it all here!
Who are your funders and why they insist on being secret funders?

— Viva la Socially Distant Political Revolution (@GrandmasHGArt) November 16, 2021
• If you're wondering why your favorite bar or restaurant is suddenly not serving... say, nachos or hamburgers, it's due to the latest pandemic plague: the supply chain. But how are restaurants rolling with the punches when suddenly the foods they're most famous for are in short demand? Our Isabella Garcia has the details with this informative story!
• Oregon's Confederated Tribes of Warm Springs have been without a reliable source of drinking water for years, and are hoping that Biden's new infrastructure law will be able to remedy that.
• Today in motorcycle club soap operas: The leader of Portland's infamous Gypsy Jokers motorcycle gang testified that he didn't have anything to do with the brutal kidnapping and beating death of one of their former members.
IN NATIONAL/WORLD NEWS:
• The Biden administration is setting up a system to produce more vaccines—to give to the world and prepare for future pandemics—to the tune of 1 billion doses per year.
I'm in the courthouse in Kenosha, Wisconsin, where 12 jurors are set to resume deliberations any minute in the Kyle Rittenhouse trial.

They deliberated for 8.5 hours yesterday without reaching a verdict and went home for the night.

Follow live: https://t.co/zKrlHujxRy

— Nicholas Bogel-Burroughs (@NickAtNews) November 17, 2021
• Another devastating side effect of the pandemic: More than 100,000 people died of drug overdoses in one year (particularly from deadly fentanyl), a record we've never seen in this country.
• The House of Reps are planning a vote today on whether they should censure disgusting Arizona Republican Rep. Paul Gosar for sharing a violent, anime-style video in which his character murdered Alexandria Ocasio-Cortez with a sword and attacked the president. (And surprise! Only two Republicans are expected to back the censuring of Gosar.)
Referencing the Paul Gosar video, Leader Hoyer says he hadn't seen action so "vile, hateful, outrageous, dangerous and inciting to violence against a colleague" in his 40 years in the House.

"This may be a criminal act." https://t.co/W4JwbncZb8

— Kyle Griffin (@kylegriffin1) November 17, 2021
• The FDA could soon give the a-ok for all adults—regardless of health status—to get the COVID-19 vaccine booster shot.
• Today in "it just keeps getting worse and worse": "L.A.'s Staples Center will be renamed Crypto.com Arena."

Slightly disappointed AEG/Crypto.com Arena outbid the city of Boston, who was going to rename Staples Center "F*** The Lakers Go Pats" Performing Arts Center https://t.co/oiVmr00l07

— Robin Lopez (@rolopez42) November 17, 2021
• You want to find the perfect gift while also supporting local businesses, yes? YES! Then don't miss the Mercury's Holiday Gift Guide, featuring only the coolest gifts and where to find them... locally!
• And now... THE WEATHER REPORT: A mostly sunny day with a cool high of 50.
• And finally, here are your Wednesday morning moves.

Dj plays "suavemente"

All the black people 🤣🤣 pic.twitter.com/KYtGKlZHSp

— Tigrisha Woods (@Jovant_Garde) November 16, 2021