[You can read all of the
Mercury
's "Top Stories of 2021" here.—eds]
When it comes to eating out, "taking out" was the biggest food and drink news of 2021. While the pandemic knocked so many of Portland's fantastic restaurants on their heels, local eateries showed their ingenuity and gumption by super charging their take-out game. And in this list of the Mercury's Favorite Take-Out Joints of 2021, we're paying loving tribute to these hometown heroes... and the absolutely delicious eats they produced, which kept all of us a lot more sane. Soooo... support your local restaurants, just like they've been supporting us all year long!
---
• Bentley's Bagels Fills the Kettleman's New York Bagel Void
"Bentley's Bagels boils their dough in that water, then bakes it on cedar planks before flipping it to a hot oven stone. It's a method that leads to a shiny, crispy crust on the outside and chewy—but airy—texture on the inside. And I must tip my hat to Bentley's in-house crafted maple bacon cream cheese, which was a joy of sweet, savory, and generously portioned pieces of crispy bacon."—Suzette Smith
Bentley's Bagels, 918 NW 21st, (971) 302-7019, bentleysbagels.com

•
Viking Soul Food Serves Up Deliciousness In a Wrap
"All the wraps at Viking Soul Food are next level tasty. The smoked salmon—wrapped up with pickled shallots, dill creme fraiche, and fresh greens—is my personal favorite savory option, but don't overlook the sweet wraps. Viking Soul Food also offers a number of side dishes to supplement their menu. I am WILD about their pickled eggs, which come artfully garnished with dill and caviar."—
SSViking Soul Food, 4255 SE Belmont, (971) 506-5579, vikingsoulfood.com
• Palomar's Cuban-Inspired Bar and Color Changing Cups
"Palomar's Swizzle (mezcal, pineapple, falernum, peach, lemon, and absinthe), which the menu describes as "tropical crisp and refreshing," was a complex concoction that took me by surprise at first sip, but one I found myself enjoying more and more as I reached the bottom of the color-changing cup... sure to delight every 90s kid who eagerly fished the free color changing spoon out of their cereal box."—Janey Wong
Palomar, 959 SE Division, (971) 357-8020, barpalomar.com

•
Quesabrosa's Carnitas Tacos Demand Your Respect
"I initially came for the cart's massive Superburrito—basically a whole day's eating inside one delicious and well-secured tortilla—before I discovered Quesabrosa's tacos, which are uniformly on point. I like the fish and the carnitas, but on this particular day, I tried on the pastor. It arrived with more spicy, sweet grilled pork than my three corn tortillas could contain."—
SSQuesabrosa, 3954 N Williams, (503) 288-5157
•
The Magic of Malka
"Malka's house favorite 'Coconut Cream Coke' has been a menu staple since the restaurant's beginnings as the Carte Blanche food cart. Real sugar Coca-Cola (the good stuff that comes in a glass bottle) and coconut cream get hits of vanilla and lemon with the optional addition of what else but rum. To illustrate just how good it was: my dining buddy went for the zero-proof version and upon first sip his face broke into an expression of utter delight. Also the Bellflower salad is probably the best thing I've eaten so far this year and includes a laundry list of fruits, veggies, and accoutrements (two words: CRISPY RICE) that make for consistently flavorful bites."—
JWMalka, 4546 SE Division, (503) 899-4245, malkapdx.com
•
Downtown's Tokyo Sando Makes the Cutest Little Japanese Sandwiches
"A husband and wife cart run by Taiki and Andrea Nakajima, Tokyo Sando presents beautiful and delicious little sandwiches made in loving homage to the great convenience store sandwiches of Japan. The main item people lose their cool for is the egg salad sandos, with half moons of soft-boiled eggs lined up in neat rows between that fluffy, sweet bread. A mash of eggs, mayo, and Dijon mustard cements the two forces together. It's a gorgeous sandwich and in high demand, but if you snag one they're
such
a delightful egg treat."—
SSTokyo Sando, 321 SW 2nd, (971) 254-3744, tokyosando.com
•
Comforting Dishes and a Warm Atmosphere Make For A Perfect Evening On Casa Zoraya's Back Patio
"Casa Zoraya has found a recipe for success, melding matriarch Zoraya Zambrano's traditional home style cooking with her son Gary's touch of modernity. Arroz con mariscos, the Peruvian version of paella, is a must for any seafood lover. In a foundation of creamy rice, salsa criolla (an onion relish) and chunks of avocado play a supporting role to an assortment of the seafood of the day. My plate was generously studded with tender calamari, fried Hawaiian ono, bay scallops, clams, and succulent shrimp."—
JWCasa Zoraya, 841 N Lombard, (503) 384-2455, casazorayapdx.com
•
Erica's Soul Food Might Make the Best Tater Tot in Portland
"At Erica's Soul Food, much of the menu will set you back—entrees range $13-$18. However, you'll find the investment shows up in a to-go box laden heavy with some damn fine Southern cooking. I also ventured into the realm of additional sides, which is how I ended up with a dangerous mountain of the crunchiest seasoned tots I've ever tasted, their circumference perfectly crisped in its entirety. Never before have I had a tater tot fried to such a level of completeness."—
SSErica's Soul Food, 803 SE 82nd, (503) 922-5519, ericassoulfood.com
•
Mitate Food Cart Raises the Bar for Vegan Sushi
"Along with their elaborately topped VEGAN sushi rolls, Mitate serves nigiri three ways. There's the avocado toast, which is luxuriously finished with black truffle salt, whiskey barrel-aged black pepper, a bright zing of lemon zest, and velvety Arbequina olive oil from Durant. An absolutely sublime fried eggplant nigiri melted in my mouth—it's complemented by a roasted tomato vinaigrette, capers, smoked sea salt, and micro cilantro, but the humble vegetable is still very much the star of the show."—
JWMitate, 3612 SE 82nd, (503) 260-2321, mitatepdx.com
•
An Ode to the Reuben, the Perfect Holiday Sandwich
"The common wisdom is that Goose Hollow Inn has the best Reuben in town, and much as I might like to make waves with audacious pronouncements, I simply can't in this case. It's a damn-near perfect specimen, with generously thick curls of corned beef nestled in perfect syncopation with a pungent strata of sauerkraut, and their signature 'Reuben sauce' evenly distributed throughout. But it's the bread that's the real triumph, with an impossibly thin cracker-crisp shell encasing rich, chewy, coffee-brown rye."—
Ben ColemanGoose Hollow Inn, 1927 SW Jefferson, Mon-Fri 11 am-10 pm, goosehollowinn.com
•
Holler Treats Provide Holler-Worthy Goodies
"This new bakery/coffee shop hang-out from the Holler Hospitality empire is a very excellent place to snag those yummy gifts for hard-to-please pals, or... well, you know... stuffing one own's face. A few don't-miss picks from their menu: Daily rotating ice cream scoop flavors (nothing "weird or savory"), slices or full pies (of the berry, black bottom pecan, and salted honey variety), classic root beer, orange creamsicle, and apple pie floats, party cakes (Funfetti, Oreo Chocolate, S'mores, and more), and a wide array of cookies (chocolate crackle, almond butterscotch chip, chocolate chip toffee). And OH! That ice cream sandwich!"—
Wm. Steven HumphreyHoller Treats, 7119 SE Milwaukie, Mon-Wed 10 am-7 pm, Thurs-Sun 10 am-9 pm, hollertreatspdx.com
---
Sponsored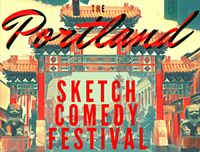 Sketch comedy troupes from all over N. America descend on The Siren Theater for 3 glorious nights.