Podcasts continued to explode in 2021. Every C-list celebrity came out with one, and your parents might even know what they are now. But amid all the noise, a few pods stood out to
Mercury
culture writers. Here are our favorites.
Maintenance Phase
Our society's relationships with weight, food, and notions of health are deeply unwell and ill-informed—and even the new wave of "wellness" and "body positivity" trends are still selling the same old bullshit. Fortunately, there's Maintenance Phase, in which journalists Aubrey Gordon and Michael Hobbes deep-dive and debunk these toxic tropes one at a time. Episodes explore how much weight actually impacts health, anti-fat discrmination, where the BMI came from, whether you should try the Keto diet, Hollywood's history of putting thin actors in fat suits, and a slew of other important myths and truths. Listening to this podcast changed the way I think about my body for the better, and gave me empathy and new insight into how those around me approach these issues. I can't recommend it highly enough, especially as we head into another January of societal diet and exercise obsession. — BLAIR STENVICK
Between the Covers
David Naimon's Portland institution Between the Covers podcast remains a master class in what arts conversation can be. Under the Tin House umbrella (and supplemented with brilliant archive lectures from Tin House workshop faculty), Naimon's research remains immaculate, and his trademark longform questions give writers room to breathe and grow into the space. This isn't your standard book-tour fare. This year, Naimon took advantage of our new remote reality to connect with stars like Percival Everett, Teju Cole and Kaveh Akbar, as well as under-the-radar international writers like Ireland's Doireann Ní Ghríofa, and rising PNW-tied writers like Callum Angus and Alissa Washuta. — ELINOR BROKER
Poog
From the Mercury's previous piece on Poog:
Hosted by alt-comedy legends Kate Berlant and Jacqueline Novak, Poog starts each episode with an ostensibly wellness-related topic: skin care, hydration, meditation, et cetera. But each conversation is wide-reaching and ravenous, taking unpredictable and laugh-out-loud-funny twists and turns through the hosts' interior lives and expansive musings on the world around them. In one episode, a casual tangent about ice cream cones turns into a profound musing on life, loss, creation, and happiness, causing one of the hosts to cry—and then there's a brilliant 15-minute discussion about the crying. I'm probably not doing a very good job describing Poog, but that's because it's something so singular that you have to experience it for yourself. — BLAIR STENVICK
Band of Brothers
This year, HBO released a Band of Brothers podcast honoring the 20th anniversary of the iconic series. It consists of 10 episodes, featuring interviews with the actors and directors behind the project. Kicking it all off was an engaging prologue from executive producer Tom Hanks. Each episode is rich with behind-the-scenes details about the production process, including stories of actors meeting the heroes they were to play. Along with the powerful testimonies were some lighthearted stories from actors describing auditioning for a disheveled-looking Hanks, who was taking time to read with them in-between the production of Castaway, so you can only imagine what that must have looked like. — RAY GILL, JR.
The Sporkful
Food podcast The Sporkful's tagline is that "It's not for foodies, it's for eaters." That unpretentious premise allows it to dive into every crevice of food culture. Viral TikTok food videos, the elusive pawpaw fruit, Patti Labelle's famous sweet potato pie, a professor's course on taco literacy, and the origins of Nashville hot chicken were just a few of my favorite episode topics this year. But the highlight of The Sporkful in 2021 was host Dan Paschman's successful quest to create and sell a new pasta shape: cascatelli, which hits Paschman's three criteria of saucability, forkability, and tooth-sinkability. Listening to Paschman's journey and then ordering and trying cascatelli for myself was a simple pleasure during another difficult year. — BLAIR STENVICK
You're Wrong About
A podcast that is highly skeptical about most everything, You're Wrong About was the brainchild of journalists Sarah Marshall and Michael Hobbes that challenges our previously held notions about our reality. It asks us to think deeper than we normally would about our preconceptions. Even as Hobbes stepped away from the show in October to pursue other journeys, Marshall has done a great job talking with guests that have already made some of the best episodes yet. I recommend the episode on true crime with writer and author Emma Berquist, or the most recent one on Reconstruction with New York Times opinion columnist Jamelle Bouie. — CHASE HUTCHINSON
5-4
If you still can't believe that the Supreme Court came pretty damn close to overturning Roe v. Wade this year, and shudder to think about what might be next, then 5-4 is the podcast for you. The hosts—three progressive, funny lawyers who have no illusions about the supposed sanctity of our nation's highest court—break down the chokehold the conservative movement has over the Supreme Court, one shitty case decision at a time. I learned more from 5-4 than from any other piece of media this year, and I at least feel prepared for the continuing legal shit show, even though I still dread it. — BLAIR STENVICK
Make My Day
I don't know at what point during the pandemic I started listening to comedian Josh Gondelman's podcast Make My Day, but every day that I did listen to it was, indeed, made. A particular episode of 2021 is special to us, the people of Portland in general, and the Mercury specifically, because it features hometown hero (and former Merc columnist) Ian Karmel. The episode was called "Your Roots Are Showing" because Ian likes talking about where he is from (which is here: Portland) and discusses such topics as Voodoo Donuts (they're good!), arriving at PDX (great!), and his interest in being honored with a casual statue (this will make sense if you listen to the episode). Portland has really been dragged through the mud recently, so it's nice listening to two nice comedians saying nice things about her. — ELINOR JONES
Sponsored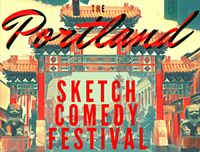 Sketch comedy troupes from all over N. America descend on The Siren Theater for 3 glorious nights.