The Mercury provides news and fun every single day—but your help is essential. If you believe Portland benefits from smart, local journalism and arts coverage, please consider making a small monthly contribution, because without you, there is no us. Thanks for your support!
Sponsored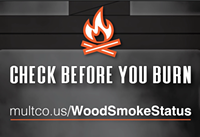 Having clean air means reducing wood smoke. Check before your burn from October 1-March 1.
Good morning, Portland!
The snow's not over yet: This morning, expect some light flurries that will transition into sunshine by noon. Snow or sun, the county's still in need of volunteers to help run emergency warming shelters. Find out how to help
here
.

- The county reports that at least one person in Multnomah County has died from hypothermia during this week's winter storm. The unidentified individual, who died on Christmas Day, died outdoors, but was not homeless at the time of their death.
- According to Oregon State Police, there were 915 traffic accidents across the state over the past six days—compared to 365 over the same period last year. It's not clear how many of these accidents ended in injury or death, but one thing's for sure: Cars are really fucking dangerous, guys.
- Last week, Delta's CEO asked the CDC to reduce the recommended quarantine time for vaccinated people who get COVID-19 from 10 days to 5 days. And the CDC done did it! Because, capitalism! To quote CDC Director Rochelle Walensky: "We can't take science in a vacuum. We have to put science in the context of how it can be implemented in a functional society."(Psst: If there ever was a time for a working class uprising, now's it.)
CDC recommends splitting up your quarantine over your two 15min breaks
— Zak Toscani (@zak_toscani) December 27, 2021
- On Tuesday, President Biden rescinded his administration's prior travel restriction to eight African countries due to the spread of the omicron COVID variant. At this point, it's safe to assume this decision is also informed by capitalism.
- A federal judge Tuesday declined to dismiss charges against members of the Proud Boys for conspiring to attack the US Capitol on January 6. While the lawyers representing the four accused men argued that their clients' actions are protected by the First Amendment, the judge responded: "Defendants are not, as they argue, charged with anything like burning flags, wearing black armbands, or participating in mere sit-ins or protests. Moreover, even if the charged conduct had some expressive aspect, it lost whatever First Amendment protection it may have had."
- Former Nevada Democrat Senator Harry Reid died Tuesday from pancreatic cancer. Reid served in US Congress for 34 years (!!!), ending his career as the Democrat's Senate leader. Also: In his youth, Reid had a brief career as an amateur boxer (?!).
- We lost another rabble-rouser Tuesday with the death of former Oakland Raiders coach, legendary NFL broadcaster, and video game icon John Madden (not to be confused with Joel Madden). ESPN writes that Madden "entertained millions with his interjections of "Boom!'' and "Doink!'' throughout games" and I'm hearing from my boyfriend that Madden also entertained millions with this important athlete's foot commercial:
- Russian has been shuttering civil rights groups left and right over the past week through court orders likening group to terrorist organizations and foreign agents.
- In related news, police shut down a pro-democracy website (Stand News) in Hong Kong today and arrested ix current and former editors, accusing the organization of dissent autonomous Chinese city. The arrests follow the removal of pro-democracy sculptures and other artwork from university campuses last week.