Whooo! You're a BUSY BEE.
Look, it's completely understandable that since you've been SO busy, you may have missed some of the great reporting and stories the
Mercury
churned out this week! So while you're lounging about this weekend, catch up on the knowledge you need by reading some of these A+++
Mercury
articles! (PRO TIP: If you despise being "the last to know," then be one of the
first
to know by
signing up for Mercury newsletters!
All the latest stories shipped directly to your email's in-box... and then... YOUR HEAD.)
---
• Private COVID Testing Sites Have Minimal State Oversight; DOJ Investigating
Regional public health agencies have little to no oversight of privately operated pop-up COVID-19 testing sites, which have become increasingly popular as testing demand outpaces supply.

•
Mayor Wheeler Subpoenaed Over 2020 Curfew Policy
Nearly two years after Wheeler instituted his police-enforced curfew, a Multnomah County defense attorney is challenging the constitutionality of the sweeping policy—and bringing him to court.
•
Scream (2022) Review: A Horror Film About Horror Films About Horror Films
If you love movies about movies that involve a movie franchise... do we have a movie for you! Matt Baume reviews the latest
Scream
(2022)!
• Akasha Lawrence Spence Drops Out of City Council Race
Sen. Akasha Lawrence Spence leaves the council race against Commissioner Dan Ryan—and endorses Equitable Giving's AJ McCreary.

•
Review: Cafe Olli is Forging the Future, and Wood-Fired Pizzas
The new Cafe Olli has delicious, wood fire pizzas—but has also created a more equitable workplace, prioritizing employee ownership, open-book accounting, and offering a living wage. Our Janey Wong has the review.
•
Savage Love: Hard for the Money
"Where are all the young gay guys who want to make some money calling me derogatory names?" Always willing to serve the greater good, Dan Savage has some suggestions in the latest SAVAGE LOVE!
•
APANO Director Duncan Hwang Appointed to Metro Council
Metro Council has appointed APANO Director Duncan Hwang to the council's vacant seat. Hwang will serve on the council until January 2023.
•
POP QUIZ PDX: Your Weekly Sassy-Ass (and Handsome!) Portland Trivia Quiz
This week's POP QUIZ PDX has it all: fun trivia Qs about scandals, sporty-sports, local rocks named after famous authors, WEED, and a subjective question about who's the most *handsome* evaaaar!
---
WOW, THAT IS A LOT OF GOOD READIN'.
I hope you didn't have any other plans this weekend! Dig in, and remember: Producing all this hard work costs moolah—so please consider
contributing to the Mercury
to keep it all coming! Thanks!
Sponsored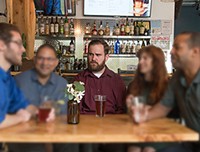 Adults aged 18-35 with good hearing will be paid for their time. Located at the Portland VA Medical Center