The Mercury provides news and fun every single day—but your help is essential. If you believe Portland benefits from smart, local journalism and arts coverage, please consider making a small monthly contribution, because without you, there is no us. Thanks for your support!
Sponsored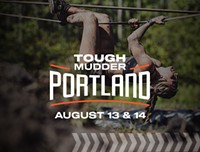 Lock in your summer adventure, Portland. Join us for world famous obstacles over a 5K or 10K distance.
GOOD MORNING, PORTLAND! Funny how I find myself in love with you. If I could buy my reasoning, I'd pay to lose. LET'S GO TO PRESS.
IN LOCAL NEWS:
• Grab your popcorn, folks! Mayor Ted Wheeler is being subpoenaed to answer for his 2020 decision to enact an 8 pm curfew following the murder of George Floyd, thereby possibly violating the constitutional rights of everyone in Portland. Find out more—as well as the criminal case that inspired the subpoena—in this report from our Alex Zielinski.

Mayor Wheeler has been called to court to defend a curfew he instituted during Portland's 2020 protests. The defense attorney who issued the subpoena says the policy was an unconstitutional overreach. https://t.co/dIypUCvqOr

— Alex Zielinski (@alex_zee) January 14, 2022
• COVID CORNER: The state's Omicron case count remains (like the rent) too damn high, with new infections clocking in at 9,796 cases yesterday—the second-highest ever. Meanwhile more school districts make the switch to remote learning, and due to a new swath of (hopefully temporary) business shuttering, Oregon is restarting its rent assistance program on January 26. WOW, such a perfect time for the Supreme Court to nix Biden's "vaccine or test" mandate for large companies! (Thanks for joining us for this week's edition of "sarcasm dripping with sadness.")
• Because the pandemic already isn't difficult enough, now we have to watch out for GRIFTERS. The Oregon Department of Justice are currently investigating Center for COVID Control, a private company that set up 19 COVID testing spots across the state, and are suspecting of giving phoney-baloney tests to steal peoples' information. Our Isabella Garcia has more on this despicable situation.
You asked, OPB education reporter @llmiller12 sought answers. Read the latest on what we know about COVID-19 and Oregon schools, as mounting student and school staff absences push administrators to move learning back online. https://t.co/QfNI0u6sLj

— OPB (@OPB) January 14, 2022
• As you may have heard, beloved Blazer Damian Lillard underwent abdomen surgery yesterday to correct a persistent chronic pain problem, and is now resting comfortably. But will he return this season to pull the team out of their slump? According to Coach Chauncey Billups, "That's something that we don't know right now, to be honest with you. We're gonna reevaluate it and see how he feels." Continue chewing your nails for the next six weeks.
• But look, you gotta eat, right? (Sweet segue.) Well, the new Cafe Olli has delicious, wood fire pizzas—but has also created a more equitable workplace, prioritizing employee ownership, open-book accounting, and offering a living wage. EVEN MORE DELICIOUS. Check out Janey Wong's review.
This week's POP QUIZ PDX has it all: fun trivia Qs about scandals, sporty-sports, local rocks named after famous authors, WEED, and a subjective question about who's the most *handsome* evaaaar! 😛🧠🤔https://t.co/NvAbcLDUuQ
— Portland Mercury 🗞 (@portlandmercury) January 13, 2022
IN NATIONAL NEWS:
• As snarked about earlier, the Supremes shot down Biden's "vaccine or test" mandate, leaving the president to ask these large employers to "do the right thing." Perhaps the conservative majority of the court didn't catch wind of this headline: "Omicron pushes hospitals to the brink in two dozen U.S. states."
• Meanwhile occasional Democratic traitor Sen. Kyrsten Sinema came off the bench yesterday to derail Biden's plan to change filibuster rules, despite the clear fact that America's voting rights are in serious danger, because she is purportedly so terrified of political divisions in this country... and maybe is a secret fan of autocracy?

Sinema believes she will be running to President in 2024 I am told. This self-styled bipartisanship she believes she speaks for, will be her brand to run as the candidate in the middle. Not far-left of far-right. She has convinced herself this is her calling and she has it.

5/

— Amy Siskind 🏳️‍🌈 (@Amy_Siskind) January 13, 2022
• The congressional panel investigating the Trump-inspired domestic attack on the nation's capitol on January 6 is now subpoenaing documents from Twitter, Reddit, YouTube, and Facebook (I refuse to call them Meta), because they did such a piss-poor job of responding to their requests the first time.
• Due to his persistent asshole behavior (which, frankly, is nothing new), tennis star Novak Djokovic is facing deportation for the second time as Australia revokes his visa after he tried to skirt around vaccination rules—because he is such a special, butthole snowflake.
Britney Spears is not happy that her sister Jamie Lynn Spears has a new book out in which she discusses their tumultuous relationship. https://t.co/j3nZb2meru

— CNN (@CNN) January 14, 2022
• It's back for 2022! America's sexiest, funnest dirty movie fest, HUMP! Coming at ya starting February 24 at Revolution Hall—GET YOUR TICKETS NOW!
• And now... THE WEATHER REPORT: A foggy morning turns into a partly sunny afternoon and a high of 48.
• And finally, GUYS! It's hard to pretend you're devastated that you're betraying the Democrats and your country!

Kyrsten Sinema working up tears before her big speech today pic.twitter.com/AqtddLLLtq
— Chelsea Pope (@chelseathepope) January 14, 2022