The Mercury provides news and fun every single day—but your help is essential. If you believe Portland benefits from smart, local journalism and arts coverage, please consider making a small monthly contribution, because without you, there is no us. Thanks for your support!
Sponsored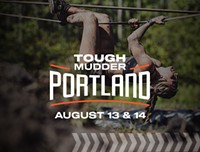 Lock in your summer adventure, Portland. Join us for world famous obstacles over a 5K or 10K distance.
GUESS WHAT, PORTLAND?
Sunset is at 5 pm today
, which also means that sunsets will continue to be after 5 pm for several months. What a beautiful time to be alive!
In local news:
• Portland police used force (shooting tear gas, baton strikes, shoving, etc) an estimated 6,000 times while responding to the racial justice protests in 2020. Despite the injuries caused by the force and over 100 public complaints, none of those forceful incidents broke city policy according to Portland's Independent Police Review (IPR). Seems statistically unlikely, right? According to the IPR director, the Portland police's directives make it impossible for the city to hold individual officers accountable for using riot control weapons against the public.
• The Portland Expo Center COVID-19 testing site is closed until January 24 as the Oregon Health & Science University (OHSU) passes the reins to the Oregon Health Authority (OHA). According to OHA, the trade off of temporarily closing a popular testing site amidst an unprecedented surge in COVID cases is worth being able to reopen the Expo site with higher capacity under OHA's control. Additionally, OHSU opened a new appointment-only testing site at its Marquam Hill campus Wednesday.
Change in governor's race: Democrat @CaseyKulla dropped out on Wednesday to run for labor commissioner. "I hope to win outright," Kulla told @LynnePDX. https://t.co/H2Xpvs6pCb
— Oregon Capital Chronicle (@ORCapChronicle) January 20, 2022
• A lawsuit filed by two Oregon district attorneys and the relatives of three homicide victims Wednesday accused Governor Kate Brown of illegally freeing nearly one thousand inmates during the pandemic. In a June 2021 letter, Brown commuted the sentence of 912 inmates who were at high risk for contracting COVID and 41 inmates who fought the historic Labor Day fires in 2020. The lawsuit alleges Brown broke state rules requiring individual commutation applications for each person.
• The Washington Department of Health is launching a portal where the state's residents can order four to five COVID-19 testing kits free of charge. Those testing kits will be in addition to the free federal COVID tests made available this week. The portal is expected to open in the next few days. Color me jealous!
Democratic lawmaker Teresa Alonso Leon will run for Oregon's new 6th congressional seat https://t.co/L8HU6UYnJb pic.twitter.com/7ijzziEJek
— The Oregonian (@Oregonian) January 20, 2022
In national news:
• It's official: Federal legislation aiming to increase access to voting failed in the Senate yesterday after Democratic senators Kyrsten Sinema and Joe Manchin refused to get on board. The Democrats needed the two holdout senators to join their party in changing Senate rules that would have allowed the Democrats to bypass the Republican filibuster—long ass speeches that prevent the Senate from moving to a vote—and move the legislation forward with a simple majority. The voting bill, named after late civil rights leader John Lewis, would have made election day a national holiday, ensure country-wide access to mail-in ballots, and enable the Justice Department to intervene in states with a history of voter suppression.
• The US Supreme Court rejected Donald Trump's request to stop the release of White House documents relating the the January 6 Capitol insurrection Wednesday. The documents must now be released to the US House committee that's investigating the January 6 attack.
A top Florida public health official has been put on administrative leave as officials investigate whether he violated a state ban by emailing employees about their low vaccination rate against COVID-19 and urging them to get shots https://t.co/7w17i8yX38
— Reuters (@Reuters) January 20, 2022
• President Biden acknowledged the US should have invested in expanding COVID-19 testing earlier in the pandemic during a press conference Wednesday. The Biden administration previously rejected health experts' advice to invest in at-home test production in October 2021, opting instead to focus solely on the country's vaccination efforts (because apparently we can only do one thing at a time). Biden is optimistic about the future of the pandemic, rejecting the thought that our current reality is the "new normal" but rather "a job not-yet-finished."
• Scientists have found a pristine coral reef deep in the South Pacific that is seemingly untouched by climate change and human activities. Divers have spent about 200 hours inspecting and studying the reef since discovering it late last year, hoping to learn more about its resiliency.
The newest Girl Scout cookie, Adventurefuls — a brownie-like treat with caramel-flavored creme — is the latest victim of supply chain and labor disruptions, resulting in a "nationwide shortage."https://t.co/qYicuBcvZC
— NPR (@NPR) January 20, 2022
• ICYMI: You can now order four free COVID tests per residential address from the federal government. It's a good start, but truly a crumb of support seeing as we are nearly three years into this mess. Let's end on a little bit of "if I don't laugh about it I'll just start screaming" humor, shall we?
They would only get four free tests pic.twitter.com/c0NCabXuT2
— Carlos Greaves (@shadesofgreaves) January 19, 2022