The Mercury provides news and fun every single day—but your help is essential. If you believe Portland benefits from smart, local journalism and arts coverage, please consider making a small monthly contribution, because without you, there is no us. Thanks for your support!
Sponsored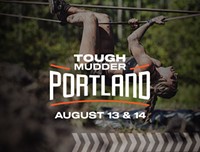 Lock in your summer adventure, Portland. Join us for world famous obstacles over a 5K or 10K distance.
It's Friday, Friday, gotta get down on Friday! Remember that song? What's that Rebecca Black up to these days anyway? Trick question: I know the answer, she is still making music and she's on Instagram and she actually seems very fun and well-adjusted and queer and I'm happy for her! FUN FUN FUN FUN.
IN LOCAL NEWS:
• Oregon hit a pandemic-high today with nearly 11,000 positive or presumptive positive cases. I am one of the fresh cases from this week (true facts), and even with a vaccine and booster it has sucked! Pro-tip for anyone who catches the 'cron this wave (which will probably be a lot of you): stock up on yellow gatorade, and make sure you've located a good pho place that delivers. (This guidance is not CDC-approved, but trust me. Or if you don't trust me or the CDC, trust our Isabella Garcia who wrote this informative piece on what to do if you catch the 'cron!)
• As Alex reported earlier today, a majority of city workers who are represented by the District Council of Trade Unions has voted to strike following stalled contract negotiations. Portland City Commissioners put out a statement that said they "remain incredibly grateful to our employees and all they bring to Portland." That's the message to the public. To the union, they offered a 1.6% cost of living increase retro for 2021, a year during which inflation has hit over 6%. Gratitude? More like splat-itude. As in the offer went splat. Because it was bad.
• Related: this tweet:
How to apply for a new job after emerging from a hostile work environment https://t.co/Lt2cAxauYk pic.twitter.com/XDXHDRhFRe
— The Oregonian (@Oregonian) January 21, 2022
• A Hood River snowboarder is heading to Beijing to represent the USA in the Olympics! The Olympics are confusing to me, but I've got nothing but love for my hometown and I hope Sean Fitzsimmons does us proud. Go Eagles.
• More sports: Did you read Abe Asher's nice piece about the departure of Portland Timbers' Diego Valeri? You should.
IN NATIONAL/OTHER NEWS:
• Seeing that I had COVID, my week has been pretty rough. But Trump's has been even worse, and that makes mine better. :)
• Also bad: the stock market! It's the worst since March of 2020, so like, don't check on your investment portfolio that you definitely have today. Looks at the squiggly lines going down:
Breaking News: Wall Street had its worst week since March 2020, with stocks down for a fourth day in a row. https://t.co/VQKJURwZHc
— The New York Times (@nytimes) January 21, 2022
• The FBI announced today that Brian Laundrie admitted to killing Gabby Petito in a notebook discovered near his body. I hope that this brings some resolution to the families.
• It's back for 2022! America's sexiest, funnest dirty movie fest, HUMP! Coming at ya starting February 24 at Revolution Hall—GET YOUR TICKETS NOW!
• Encanto has become the first movie soundtrack to hit #1 since 2019 and this TikTok encompasses exactly how I feel about that: