The Mercury provides news and fun every single day—but your help is essential. If you believe Portland benefits from smart, local journalism and arts coverage, please consider making a small monthly contribution, because without you, there is no us. Thanks for your support!
Sponsored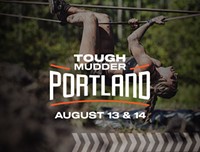 Lock in your summer adventure, Portland. Join us for world famous obstacles over a 5K or 10K distance.
Good morning, Portland. It's April, and you know what that means: Showers! Today we'll see more rainy, windy weather and temperatures in the 40s and 50s. Now, let's take a look at today's headlines:
- Portland's charter commission made a big step toward changing the city's form of government last week, with a vote that nudges the proposition a little closer to the November ballot. Get caught up on where this commission's work currently stands, and how it could influence what representation and influence looks like in Portland with Abe Asher's reporting.
- Beloved late-night dance spot Dig A Pony is closing in June (boo!), but its keys will be handed over to beloved locals behind some of the city's best concerts (yay!). Music writer Jenni Moore breaks down what to expect from the last months of DAP and its coming transition into a music venue with an "eclectic, psychedelic vibe."
- Singer Madison Shanley wasn't going to let management's ignored abuse allegations go unmentioned when she sang the national anthem at this weekend's Timbers game:
Incredibly Proud of the Woman. PTFC called her dad to make her take off her "You Knew" shirt and when she wouldn't they came down personally to try to make her take it off yet she stood her ground. Shine bright & speak your truth Madison ❤️ pic.twitter.com/UDHQE0aNbn

— Kayla Marie (@KP_KaylaMarie) April 3, 2022
- Good news: Navy SEALs won't be ruining your family's camping trip in Washington State this summer! On Friday, a judge ruled against allowing SEALS to use Washington State Parks as training grounds, axing scenarios where "SEALs would emerge from the water under the cover of darkness and disappear into the environment."
- Nearly 200 Alaska Airlines flights were canceled over the weekend amid a pilot strike due to contract negotiations between the company and its labor union representing pilots. Several pilots picketed at Portland International Airport to express their frustration with the contract impasse.
- At least one person fatally shot six people and injured 10 others in downtown Sacramento early Sunday morning. Police have yet to track down the two alleged shooters responsible for the deadly incident, which officers say may have been sparked by a fight.
Democrats on the Senate Judiciary Committee will vote today on whether to advance the nomination of Judge Ketanji Brown Jackson to the Supreme Court, bringing the nomination closer to Senate confirmation. https://t.co/uYVWHmARgK

— NPR (@NPR) April 4, 2022
- Amazon workers in Staten Island made history Friday by voting to become the mega-corporation's first union. Make time for this charming piece of journalism on the BFFs who used TikTok and guerrilla art installations to spearhead this labor victory.
- Olivia Rodrigo, Jon Batiste, Foo Fighters, Silk Sonic (a group I didn't know existed made up of Anderson .Paak and Bruno Mars), H.E.R., and others took home Grammys last night during an awards ceremony that involved no slaps. Also, Volodymyr Zelenskyy (are we doing two Ys now?) sent a message about freedom from a Ukrainian bomb shelter that played during the event (?!). Related: Has Sean Penn smelted his Oscars yet?
- The news out of Ukraine is unsurprisingly bleak. Russian soldiers left the signs of genocide behind in now-abandoned Ukrainian cities. In the town of Bucha, returning civilians came across lined-up bodies of executed residents in the streets, leveled homes, and mass graves. Per CNN: "The evidence of apparent atrocities in Bucha came as Human Rights Watch announced it had documented allegations of war crimes in the occupied areas of the Kyiv, Chernihiv and Kharkiv regions." Mercury pal Sergio Olmos is helping document:
I can confirm cluster bombs, banned by the Geneva convention, used against Ukrainians in rural Chernihiv Oblast.

This spent cluster munition is outside the village of Olyshivka in Chernihiv Oblast, far from any major city. pic.twitter.com/mtdd2KuiwX

— Sergio Olmos (@MrOlmos) April 3, 2022
Sponsored
Virtual Auction Event & Drag Queen Fashion Show. You won't want to miss this show!