The Mercury provides news and fun every single day—but your help is essential. If you believe Portland benefits from smart, local journalism and arts coverage, please consider making a small monthly contribution, because without you, there is no us. Thanks for your support!
Sponsored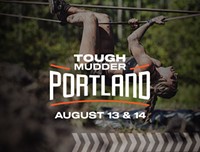 Lock in your summer adventure, Portland. Join us for world famous obstacles over a 5K or 10K distance.
Good Afternoon, Portland! Have you
learned to love the rain
? GOOD BECAUSE THERE'S MORE. MORE RAIN. TODAY AND TOMORROW. Here's the news:
IN LOCAL NEWS:
• A Friday court hearing brought to light that the Portland Police Bureau's own data shows that the cops' use of force against people with a mental illness has slightly increased since 2017. News Editor Alex Zielinski has the story.
• Thirteen years into cinema's changeover from film to digital, it's now increasingly common for new releases to come with open captions available. So two Portland movie houses added open caption screenings to their regular repertoire!
The Confederated Tribes of Grand Ronde are working to lift state restrictions on tribal fishing and hunting imposed by a controversial agreement nearly 40 years ago. https://t.co/pkxb9JWbHG
— OPB (@OPB) April 29, 2022
• For those uninitiated to the wonders of the One Motorcycle Show, the three-day vroom vroom fest also has a really great music and food line-up, essentially pleasing everyone it is possible to please.
Your mother figure deserves only the best, so we've compiled this handy guide to Mother's Day food specials and events around town. https://t.co/lkD1TkqwxK
— EverOut Portland (@EverOutPortland) April 30, 2022
IN NATIONAL / INTERNATIONAL NEWS:
• HERE WE GOOOO: After a time of calm and relative curve flatness, the New York Times reports that coronavirus cases are up in all but three US states! The good news is that, though there's a rise in hospitalizations, the numbers aren't yet overwhelming medical institutions.
• The first known US citizen has died in the Russian invasion of Ukraine. Former Marine Willy Joseph Cancel, 22, was killed fighting alongside Ukrainian forces. The Guardian reports that Cancel is survived by a wife and son.
• Apparently, Donald Trump has been accruing $10,000 daily fines for failing to comply with a subpoena, as part of an attorney general investigation into his New York business practices. Today's Trump's lawyer asked if it would be possible to end the fines and a New York judge was like "nah."
The pandemic has upended the rigid 9-to-5 workday: Some workers have added a third shift to their evenings, following midmorning and after-lunch crunches, as companies scramble to adjust to a new understanding of working hours.https://t.co/gHRSrQ8CyR
— The New York Times (@nytimes) April 29, 2022
• No more excuses! Get out there and have some fun this weekend! (It's okay if your idea of fun is being completely sober, wrapped up in blankets, and watching funny videos.)
Sponsored
Virtual Auction Event & Drag Queen Fashion Show. You won't want to miss this show!