The Mercury provides news and fun every single day—but your help is essential. If you believe Portland benefits from smart, local journalism and arts coverage, please consider making a small monthly contribution, because without you, there is no us. Thanks for your support!
GOOD AFTERNOON, PORTLAND! Did you know that non-presidential election years are historically shitty for voter turnout? THAT'S NOT GOOD. It's especially NOT GOOD for an important primary election like the one happening next Tuesday, May 17, where sketchy puppets for Portland's wealthy are trying to take over city council. So do me a favor, doll... AND VOTE. (And if you need help, there's always the Mercury endorsements and cheat sheet, aren't there? YOU'RE WELCOME.) Now let's zoom in on some NEWS!
Sponsored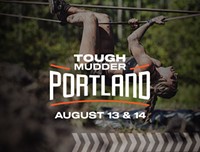 Lock in your summer adventure, Portland. Join us for world famous obstacles over a 5K or 10K distance.
IN LOCAL NEWS:
• Speaking of sketchy puppets commanded by Portland's wealthy: Have you read our Alex Zielinski's FREAKING FANTASTIC takedown of the people (for Portland) behind all the recent Thompson Elk drama? She provides all the details of this ridiculous situation, as well as a damning indictment of those white Portlanders who were happy to march and support the Black Lives Matter movement... until it got personally uncomfortable and the wealthy started losing money. It's your Mercury MUST-READ of the week!
"It's easy to unfurl a 'mission accomplished' banner over a statue and declare the city's soul has been healed. It's harder to confront the decades of trauma that a city's police force has left on its residents for standing up for human rights."https://t.co/rIH0ZbbPRR

— Portland Mercury 🗞 (@portlandmercury) May 12, 2022
• VERY MUCH RELATED: While public campaign financing limits have stopped Portland's wealthy developers from personally donating any more than $250 each to their preferred candidate, Vadim Mozyrsky, they're still able to pump hundreds of thousands into the campaign to unseat Commissioner Jo Ann Hardesty by running the money through their PAC, Portland United. This OPB report explains how Portland's rich is once again skirting the rules to put their own people in power.
Portland's public campaign financing system is an effort to limit the role big $ plays in city politics. But developers & business leaders have found a huge loophole to help one of Commissioner Jo Ann Hardesty's major challengers. https://t.co/PTJ6WPgRl5

— Anna Griffin (@annargriff) May 12, 2022
• ALSO KINDA RELATED: Mayor Wheeler ordered a sweep of at least 21 homeless camps in the Old Town neighborhood in the past few days—without providing these people with any place to go. According to advocates, sweeps like these traumatize houseless individuals, while also failing "to address the root cause of their vulnerability to homicide, injury and other suffering: the lack of both affordable housing and behavioral healthcare."
• Multnomah County Sheriff candidate Derrick Peterson has finally been given the go-ahead to earn his law enforcement certification—something that was putting quite a damper on his candidacy for the office. Plus, he claims the current sheriff was holding him back, characterizing it as another barrier he's faced in his career as a person of color in law enforcement. Our Alex Zielinski has more.
• "Bleep-blik-BLORP!" Translated: "Calling all Portland earthlings! It's time for POP QUIZ PDX, featuring quizzy Qs about adorable orangutans, more stupid elk drama, and tourists from other WORLDS!" Also enter to win free pizza, bleek, blorp. 🍕👽
Portland-based rapper Wynne has a new single out, and Pickathon's bill just keeps getting better—they added GZA and his band the Phunky Nomads. 🤩 Here's what music columnist @JenniferKayMo suggests you should Hear in Portland. https://t.co/C1psW6zyLK

— Portland Mercury 🗞 (@portlandmercury) May 12, 2022
IN NATIONAL/WORLD NEWS:
• Today's TOP STORY:

.@DUALIPA's yoga skills are impressive. 👀 https://t.co/4X3KNVOe0C

— POPSUGAR Fitness (@POPSUGARFitness) May 10, 2022
• Finland has announced they are considering joining NATO (and Sweden could be next) because of the Russian invasion of Ukraine, which is making Vladimir Putin FAH-URIOUS enough to warn there will be "consequences." Meanwhile Republican Senate/Feckless Shit-Head Rand Paul has blocked the quick passage of $40 billion in aid to Ukraine.

• The January 6 committee investigating the domestic terrorist attack on the nation's capitol has subpoenaed five Republican shit-head members of Congress, including Minority Leader Kevin McCarthy.

Report: GOP staffers fired in wake of potential ballot harvesting scheme in Pennsylvania https://t.co/Bp9EpW0uAc

— Rolling Stone (@RollingStone) May 12, 2022
• A Pennsylvania Republican candidate for Senate, Kathy Barnette, is out-Trumping Trump with her strident anti-abortion, anti-Muslim rhetoric and the state's GOP (and Trump) are in full panic mode.
• I, for one, welcome our BLACK HOLE overlord.

Our own black hole! Astronomers have just revealed the 1st image of the supermassive black hole at the center of our Milky Way galaxy using the @ehtelescope- a planet-scale array of radio telescopes that emerged from decades of NSF support. https://t.co/bC1PZH4yD6 #ourblackhole pic.twitter.com/pd96CH3V0m

May 12, 2022
• And finally... give this person a Nobel Prize or something.

BE NOT AFRAID pic.twitter.com/UCP9Ugtr5d

— Eric Sipple (@saalon) May 3, 2022