The Mercury provides news and fun every single day—but your help is essential. If you believe Portland benefits from smart, local journalism and arts coverage, please consider making a small monthly contribution, because without you, there is no us. Thanks for your support!
GOOD MORNING, PORTLAND!
Get ready for
a soaker of a weekend
as an "atmospheric river" settles in over the Northwest, bringing occasional buckets of rain and mild temps in the low 70s. Now prepare to get soaked... in
NEWS
.
IN LOCAL NEWS:
• Next week the first of the city's six planned "Safe Rest" villages is set to open—this one on Southwest Multnomah Boulevard. The 30 residents who will be living there have yet to be chosen, but they could be moving in as soon as the end of the month.
Oregon association for school resource officers cancels controversial ex-sheriff's appearance at conference https://t.co/UtSAIa3CeF

— The Oregonian (@Oregonian) June 10, 2022
• After walking away from the project in 2020, Portland City Council is poised to vote on rejoining the plan to rebuild a section of Interstate 5 through Portland's Rose Quarter. Council originally walked because of ODOT's failure to consider the needs of the historically Black (and disregarded) Albina neighborhood—but a new plan could change all that.
• Surprise! The Portland Police are being sued AGAIN, this time for allegedly failing to properly investigate the case of a man who was trying to divert traffic away from a protest march in 2020 and was run over by the driver of a truck pulling a trailer. While cops claimed there was no video evidence of the hit and run—turns out there WAS. And worse still, the cop assigned to the case reportedly blamed the victim. (So if they don't investigate OR solve crimes... what exactly are we paying for again?)
• Hey brainy britches! Test your knowledge of Portland-based movies, sneaky celebrity visits, and lots more sassy-ass local trivia with the always fun POP QUIZ PDX! Plus you can enter to win *free pizza*... yummm. 😋
Portland-born director Chris Eyre is one of the most acclaimed Native American filmmakers of his generation. He spoke to @EclecticHutch about his new TV series "Dark Winds," and the powerful feeling of putting the project's focus on a Native hero.https://t.co/0tSPkvX42r

— Portland Mercury 🗞 (@portlandmercury) June 9, 2022
IN NATIONAL/WORLD NEWS:
• Expectations of what the January 6 Commission could accomplish were EXCEEDED last night in their first of many hearings, in which they revealed the findings of their investigation into the domestic terrorist attack on the nation's capitol. THE TOP TAKEAWAYS: 1) Trump was almost certainly at the center of the plot, which as it turns out was NOT a "riot" that went sideways, but an orchestrated plan—one carried out by the Proud Boys. 2) Lots of clips from Trump's former aides (and even his own daughter Ivanka) testifying that his election claims were, as former AG Bill Barr put it, "bullshit." 3) Capitol Hill cop Caroline Edwards gave a heartbreaking and horrifying description of being knocked unconscious by the domestic terrorists and then getting back up to engage in "hours" of hand-to-hand combat as she "slipped in the blood" of her fallen comrades. More hearings will be televised next week (where the panel will turn to Trump's traitorous fellow Republicans), so stock up on popcorn!
Look at this footage. @laurenboebert was tweeting the Speaker's location as this was all happening.

When I spoke of my fear of being raped again while locked in my office bathroom, @TuckerCarlson mocked it. So did Boebert. @NancyMace insinuated to her supporters it was a lie. pic.twitter.com/I151oTFGP1

— Alexandria Ocasio-Cortez (@AOC) June 10, 2022
• Last month inflation hit a new 40-year high of 8.6 percent, raising new fears of a possible recession. But wait... Treasury Secretary Janet Yellen and Cardi B are beefing about it?!?
• A white Michigan police officer has been arrested and charged with MURDER for shooting and killing a Black man, Patrick Lyoya, during a (you guessed it) routine traffic stop.
JUST IN: The Biden administration plans to drop its rule requiring travelers flying into the U.S. to present a negative COVID test before departure. The mandate ends on Sunday.https://t.co/5owsWtrouH

— NPR (@NPR) June 10, 2022
• YAY to Britney Spears who married her beau Sam Asghari yesterday at her home, and BOOOOOO to former hubby Jason Alexander, who crashed the wedding, made a huge scene, and had to be carried away in cuffs.
• And also YAY to this news: "More Young People Identify as Transgender Than Ever Before, Study Shows."
• And finally, I hope you're going into this weekend like....

this is just the greatest pic.twitter.com/hA3qeyZHqq

— ⚓️Imani Two-Kitchens Gandy⚓️ (@AngryBlackLady) June 10, 2022
Sponsored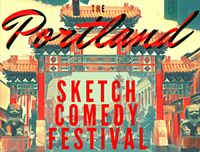 Sketch comedy troupes from all over N. America descend on The Siren Theater for 3 glorious nights.