The Mercury provides news and fun every single day—but your help is essential. If you believe Portland benefits from smart, local journalism and arts coverage, please consider making a small monthly contribution, because without you, there is no us. Thanks for your support!
Sponsored
Sketch comedy troupes from all over N. America descend on The Siren Theater for 3 glorious nights.
Good morning, Portland!
Happy day before Friday—here are some headlines to spice up your water cooler talk.
In local news:
• The man accused of shooting five people, killing one and paralyzing another, at Normandale Park was known to the FBI as a possible threat for months prior to the shooting. The alleged shooter, Benjamin Jeffery Smith, was reported to the FBI for violent outbursts by friends and online acquaintances for years starting in 2006. The FBI also visited Smith last year based on the tips. OPB details the challenges the FBI face in actually using tips to prevent gun violence.
• For a second year, Pride Pics offers festival attendees a chance to watch queer films outdoors. This year, the selection centers queer Black films, with a program of shorts and a feature documentary about BeBe—the first winner of RuPaul's Drag Race.
The Newberg School Board has enacted a series of controversial decisions over the past year, all on 4-3 votes won by the conservative majority. One of the three liberal members resigned in protest in February, and the other two followed suit last night.https://t.co/pqZbJEcBWr
— Anthony Macuk (@anthonymacuk) June 15, 2022
• People with concealed firearm licenses can no longer carry weapons on Portland Public Schools property, according to a new policy the PPS school board approved Tuesday night. The policy was made possible by a bill passed by the Oregon Legislature earlier this year allowing schools to prohibit concealed carry weapons on school property. According to OPB, 13 percent of Oregon public school districts have passed a ban.
• If you love a good sandwich, you should start preparing your stomach. Starting Monday, June 20 through Sunday, June 26, get deeeeelicious $8 sammies from 30 (!) local restaurants. It's the Mercury's SANDWICH WEEK! Eat 'em up!
In national news:
• President Biden issued an executive order Wednesday directing the federal health and education departments to draft new policies that protect LGBTQ people's access to healthcare and safe school environments. The order also discourages states from allowing conversion therapy, but actually enforcing bans against the practice will rely on legal challenges outside the scope of the White House.
• The Federal Reserve increased its interest rate by 0.75 percent Wednesday—the biggest single hike since 1994. The increase means that it will become more expensive for Americans to borrow money, whether it be a car loan, mortgage, or credit card.
I hope you'll join us all in saying goodbye (and good riddance?) to Internet Explorer. @KGWNews pic.twitter.com/zrJx90vBw9
— Craig Edwards (@craigers19) June 15, 2022
• In creepy crawly news: A pest control company in North Carolina offered to pay people $2,000 to release 100 cockroaches into their home for 30 days to test various DIY cockroach treatments. The company was seeking 5 to 7 participants, but ended up receiving more than 2,500 applications within a week. *Shudder*
• The January 6 committee is holding its third public meeting today at 1 pm EST. Former VP Mike Pence's lawyer, who cautioned against the administration attempting to delay the certification of electoral votes, is expected to testify. You can watch the hearing here.
• NASCAR? No thanks, I only watch YAAASCAR
YASCAR 🌈#PrideMonth
— NASCAR (@NASCAR) June 15, 2022
Sponsored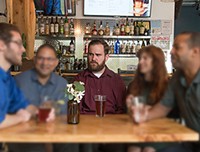 Adults aged 18-35 with good hearing will be paid for their time. Located at the Portland VA Medical Center