The Mercury provides news and fun every single day—but your help is essential. If you believe Portland benefits from smart, local journalism and arts coverage, please consider making a small monthly contribution, because without you, there is no us. Thanks for your support!
Good Afternoon, Portland!
Fire in the disco, fire in the Taco Bell. People always ask how we
keep starting fires
! We read the news! (We read the news.)
IN LOCAL NEWS:
• What's your relationship to your rental deposit? Always get it back? Kiss it, and consider it gone? Whatever it was, it's likely to change again now that Portland's City Council will vote to roll back a 2020 city policy that limiting how much a landlord can withhold for repairs or replacements.
• TriMet has no plans to increase its service levels, citing a severe driver shortage. The agency cut service by nine percent in January, and the situation hasn't improved since then—it may be worse.
• An OUTDOOR TERRACE? FOR OUR DOWNTOWN LIBRARY? I've gotten you way too hype for this fairly dry rundown of the upcoming three month Central Library closure:
In August, Portland's downtown Central Library will close for three months to allow for several concurrent construction projects. Read about the plans and steps being taken to keep its 6k weekly visitors served.https://t.co/LTK8qkaqlW
— Portland Mercury 🗞 (@portlandmercury) June 21, 2022
• Portlander turned New Yorker, Hazel Newlevant, is passionate about indie comics—especially memoir graphic novels. Treat yourself to this fun flock of six works by trans cartoonists that you must read immediately.
• What's up Sandwich Week? Whoooa oh oh oh oh oh. Through Sunday, June 26, look for $8 sandos from 30 (!) participating local restaurants. There's a lot of katsu out there, and even more veg options—including a strawberry basil ice cream sando—dang! You're in the thick of the Mercury's SANDWICH WEEK:
Summer is coming in hot in more ways than one: there's 90 degree weather in the forecast AND the first official day of summer is tomorrow! To help you have a great start to the season, we've selected this week's hottest events. https://t.co/JLDQWX5uNd
— EverOut Portland (@EverOutPortland) June 20, 2022
IN NATIONAL / INTERNATIONAL NEWS:
• Something we learned from today's Jan 6 committee hearing: In his ongoing attempts to overturn the 2020 presidential election, Trump targeted election workers and Republican leaders. Arizona House Speaker Rusty Bowers testified that groups protested in front of his home on a weekly basis, after he refused to decertify his state's electors. An election worker that Trump targeted, Wandrea "Shaye" Moss, was inundated with threats from his supporters.
• Between 2010 and 2019, fatalities rose 36 percent for cyclists and nearly doubled for those on foot.
"For more than 90 years, there has been a tacit agreement in the US to treat the right to walk as dispensable, and to treat each death in traffic as an individual loss to be grieved privately." https://t.co/jA1aCGQShE
— Bloomberg CityLab (@CityLab) June 21, 2022
• "The officers had weapons, the children had none. The officers had body armor, the children had none. The officers had training, the subject had none," Steve McCraw, director of the Texas Department of Public Safety said during a Texas Senate committee, according to NPR. McCraw went on to say that there were enough armored police officers to stop the Uvalde shooting, three minutes after it began. This could also be a good time to revisit this 2005 episode of Radiolab, "No Special Duty."
• If your publication is not transposing your face onto the body of a rare Galápagos then I don't even know where your priorities are at.
Sponsored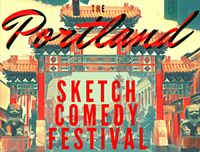 Sketch comedy troupes from all over N. America descend on The Siren Theater for 3 glorious nights.