CLAIRE RUDY FOSTER has lived in Portland since she was 18, and has written about the city and her life here for years. She's an author and a woman in recovery, and her new book, I've Never Done This Before, features stories centered around addiction in Portland.
Sponsored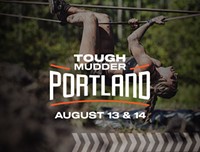 Lock in your summer adventure, Portland. Join us for world famous obstacles over a 5K or 10K distance.
"All seven stories are tied to Portland," she says. "I know the landscape of Portland as well as I know the landscape of addiction because I've explored it."
Foster got sober in 2007, first on her own, and then with the assistance of Alcoholics Anonymous.
"AA got me through divorce, being broke, and living in my car with an 18-month-old," she says. "I did it all with this community that came out to support me because I didn't want to drink."
Foster has since spent time volunteering for the AA hotline, working with people still in active addiction. "It helps keep me honest with myself," she says. "I'm one drink away from losing almost a decade of hard work."
But Foster adds that her collection isn't about that "come to Jesus" moment.
"Not everyone wants to, or needs to, get sober," she says. "Addiction is a mental illness, and it's rife in our culture."
Foster says that for her, the impact of addiction is especially heavy on relationships.
"It affects everyone you know, and your relationship with yourself," she says. "It means having a full-time relationship with a substance, an inanimate object."
The title of her book comes from a line in "Runaway," one of the collection's stories, set in a treatment center in Portland.
"In AA there's a joke... what do you get when you sober up a horse thief? A sober horse thief," Foster says. "Getting sober doesn't automatically make you a good person. In 'Runaway,' the character doesn't want to start over or get clean. The title, I've Never Done This Before, is one of the big lies that we tell. 'I would never, I could never.' You just wait."
"For me, this is the realization of a dream," Foster says of connecting with her publisher, KLĒN+SŌBR, through a recovery group. Then an offshoot of a St. Louis outfit that was branching out from podcasting into other types of media, the company asked Foster if she wanted to publish a collection with them.
"I didn't think this was possible for me," she says. "I OD'd on heroin when I was 18, and my heart stopped. So this is all gravy."
---
I've Never Done This Before
by Claire Rudy Foster
(KLĒN+SŌBR)
Sponsored
Virtual Auction Event & Drag Queen Fashion Show. You won't want to miss this show!