In 2001, over the holidays, I received six copies of Eric Schlosser's Fast Food Nation. They came mostly from friends of my parents—people I had never received a present from before (and haven't since). Fast Food Nation's in-depth exposé of the American meatpacking industry struck a chord with so many people, that even those who knew I was already vegetarian couldn't wait to get that book off a bookstore shelf and into my student dreamer hands.
Sponsored
Sketch comedy troupes from all over N. America descend on The Siren Theater for 3 glorious nights.
Bernie Sanders' Our Revolution could be 2017's Fast Food Nation, if we want it to be. We could put this part autobiography/part clean outline of Sanders' ideology into the hands of baby dreamer students in our social spheres with a short, inspiring note: "The future is yours, Emily!" "Taxpayers spend about $7 billion a year subsidizing the wages of fast food workers, Taylor!" "It's time to start questioning things, Devin!"
Make them ask, "Are you my mom's friend?"
Presumably started in July (at the end of Bernie's bid for the Democratic nomination for president) and printed in November, Sanders got to spend around three months on Our Revolution. It succeeds because it exists in two parts. The first 185 pages are an easily digested, idyllic Bernie Sanders history. He reminisces about his working poor childhood in 1940s Brooklyn (STICKBALL. I am not joking), and his introduction to the *Bernie Sanders voice* "incredible winter beauty of Vermont." The majority of the autobiographical portions focus on Sanders' decision to run for the Democratic nomination and his campaign.
The second half of Our Revolution is an updated version of Sanders' famous 2010 eight-and-a-half-hour filibuster speech (also published as a book called simply The Speech). These core ideas made up Sanders' platform during his nomination bid, and many of them made it into the Democratic platform that Hillary Clinton later ran on against Donald Trump.
Sanders' voice is very present throughout Our Revolution, and that affords the book a sort of feel-good quality as well. If you've forgotten how it felt when Bernie Sanders spoke and you wondered "Could we really have such a nice world?" as your heart fluttered, this book will take you back there—and rev you up for the journey ahead.
---
Our Revolution
by Bernie Sanders
(Thomas Dunne Books)
Sponsored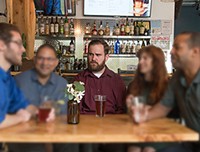 Adults aged 18-35 with good hearing will be paid for their time. Located at the Portland VA Medical Center