OVER THE YEARS, Zach Auburn self-published under many assumed names—'90s preteen Joshua Chapman for his series Field Guide to the Aliens of Star Trek: The Next Generation, just "Anonymous" for his Choose Your Own Adventure-style novella Love Is Not Constantly Wondering If You Are Making the Biggest Mistake of Your Life—but the moment you talked to him (he was a regular fixture at Portland's small press/zine events) there was little mystery as to the identity of the author of so many varied, funny, and endearing projects. When the $2 zine How to Talk to Your Cat About Gun Safety, purportedly distributed by the American Association of Patriots (AAP), began shooting off the shelves of stores that carried it, Auburn surprised everyone by finally using his own name—albeit still affecting a kind of character pseudonym as president of the AAP. Auburn took a moment away from his conspiracy wingnut character to reconnect with the Mercury, and discuss his pseudonym shift as well as the hilarious, expanded book version of his pamphlet series about cats and the conservative agenda protecting their furry little lives.
MERCURY: How's it going remaining "Anonymous"?
ZACH AUBURN: My secret identity is no more. Writing all of my books anonymously or pseudonymously is not the best way to market myself. At this point, my family has figured out I'm writing, and keeping that information from them was a big part of being anonymous in the first place. The downside is that I'm the only "Zach Auburn," so now I get people emailing me rambling manifestos about Jung and quantum mechanics.
Do you mind being connected to your previous works?
Not at all. I mean, Gun Safety is funny and all, but I'm prouder of Love Is Not Constantly and the Star Trek zines. They were more ambitious and more personal. I'm hoping to try something like them again in the near future, but it's a scary thing to take on.
Are you satirizing literature from specific organizations?
The original zine was pretty heavily influenced by the NRA's Eddie the Eagle pamphlets, which is their "How to Talk to Your Kids About Gun Safety" program, mixed with the histrionic tone of a Chick tract, then filtered through the editorial voice of Cat Fancy magazine.
How much research was involved with picking up this narrative voice?
Unfortunately, I've worked nights all my life, and one thing that's consistent across all graveyard shifts is there's going to be one dude who's REALLY into conspiracy theories. I've had a lot of Art Bell, Alex Jones, and Breitbart inflicted on me over the years, and as a result I've become well versed in crazy, patriotic, paranoid, racist, anti-Semitic, libertarian bullshit.
How many confused, sheltered 10-year-olds do you expect will tell their cats about gun safety?
Hopefully none. Random House made me blur out all the dildos, but this book is still definitely not appropriate for kids.
What is your suggested age range for HtTtYCAGS?
I guess it really depends on the kid, and whether they have the critical thinking skills necessary to understand that this is satire. Do they do "Parental Advisory" stickers for satire?
Sponsored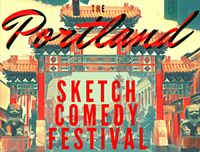 Sketch comedy troupes from all over N. America descend on The Siren Theater for 3 glorious nights.