Peter Hook opens his 700-page New Order tell-all autobiography Substance with a story about the first time he did cocaine—it was at the John Hughes Pretty In Pink premiere after-party. He segues into some backstory about his studio ego clashes (with studio producer John Robie) and subsequent elaborate studio pranks (dinner- and outfit-ruining). Food fights become real fights. All the Hollywood types at the Pretty in Pink party are astounded when Hook really punches Robie—just once—laying him out. Hook is simultaneously bashful and very impressed with himself for being such a true-to-form Manchester boy here, buuuuut it also sounds like the memory of someone on coke (all attention was focused on ME!). It's a smart little prologue, though: only six pages and situated squarely inside the famous rock 'n' roll, party-boy lifestyle New Order inhabited. Anyone can flip through it and know instantly if Substance is for them.
Hook already wrote a book about New Order's first band Joy Division, in 2012's Unknown Pleasures, so there is little of the famously tragic Ian Curtis in Substance, but for a brief mention at the beginning, as New Order forms in response to losing him. The book "is, if you like, the story of a long and drawn-out grieving process," Hook writes.
Shenanigans ensue. With the Clash! About chicken wings! In fact, shenanigans comprise most of Substance and the rest is lists. An exhaustive list of every show New Order played from 1980-2007 creates the backbone of the book, with notes from many of the more memorable dates. There are breakout sections devoted to loving rants about gear (early drum machines, bass strings, even an explanation of gaffer tape) and photocopies of important documents like New Order's backstage riders as well as a history of every run-out groove on every record they ever released. It's frankly astonishing.
I could attribute the level of detail to Hook's claim of relative sobriety, at least early on, but if I'm 100 percent on anything, it's that Peter Hook is an unreliable narrator. He is fun to listen to, though. He needs to be read with a bedside Manchester slang phrasebook, but there's a lovely flow to his yarns (even if he does seem to get mixed up about when exactly he had his first child). Substance is also pro-safe sex in a way that I think will make it appeal to men—for the first time ever—due to the EXCESSIVE attention paid to used-condom pranking. Hook's memories are very of their time, so he remembers New Order's introduction to sushi as gross, STIs as gross (but ephemeral), and groupies as nameless, disposable joys. After a while it starts to get sad: the endless replenishing of food and beer and being sick and getting drugs. It's obvious he thinks so too.
Substance makes some grand assumptions about its audience: that they're familiar with bands that were popular alongside New Order, and they know about Factory Records co-founder Tony Wilson. I wouldn't recommend reading this book on a Wi-Fi-less desert island. What you should do is wait until Hook begins ranting about a specific song and then listen to it! It's very satisfying to read about lead singer Bernard Sumner's terrible mood on the day of their BBC Radio 1 studio performance, and then watch him tear off his microphone muffler during "Age of Consent." "You had to hand it to him," Hook says, "he played like a demon."
---
Substance: Inside New Order
(Dey Street)
Sponsored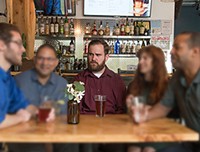 Adults aged 18-35 with good hearing will be paid for their time. Located at the Portland VA Medical Center