Jimmy Buffett: A Good Life All the Way begins in Key West at the dawn of the '70s—where, Portland author Ryan White notes, "the drugs were plentiful, and the sex wouldn't kill you," and where a bar called the Chart Room, with its "dark wood, scuffed floors, thumbtacked navigational charts, and Mos Eisley charm" was "where the sheriff who ran Jerry Jeff to Coconut Grove would drink alongside treasure hunters who hung out with dope smugglers who knew the shrimpers who didn't kick the shit out of the artists."
Sponsored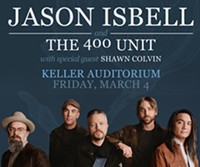 Jason Isbell has established himself as one of the most respected songwriters of his generation. Don't miss Jason Isbell and the 400 Unit, March 4th at Keller Auditorium!
The Chart Room served as a makeshift HQ for a young singer-songwriter named Jimmy Buffett, who'd go on to invent a low-key genre of music best described as "gulf and western," scraping by for years before finding success. Once found, success encompassed restaurants, casinos, trademarked tequila, and $300 Margaritaville Key West Frozen Concoction Makers.
Buffett's is a strange story—one that involves a fateful visit to Portland's long-gone Euphoria Tavern—and White, it turns out, is the perfect guy to tell it. (Full disclosure: White has written for the Mercury, including a piece about Buffett and the Euphoria.) It's also a contentious story: Just ask any member of the Church of Buffett, Orthodox, a possibly imaginary institution that reveres only four of Buffett's "enlightened works" that predate his "slide towards commercialism." (To be fair, they are the best albums.)
Making full use of charming, in-depth interviews with those who've worked with Buffett, White gives the man his oft-overlooked due as a songwriter, charting his path from a bar musician with a hell of a work ethic to a corporate overlord with a hell of a work ethic. But the best parts of A Good Life are the unexpected detours—the half-faded recollections of those in Buffett's formerly hard-partying circle of musicians, producers, and writers like Hunter S. Thompson and Jim Harrison.
Like any good Buffett song, A Good Life is entertaining and witty—and like any great Buffett song, it has a shadow of melancholy. Towards the end, White finds himself at a parrothead convention in a cleaned-up Key West, where Buffett plays a deep cut: "Death of an Unpopular Poet," his somber 1973 ballad inspired by the passing of writer Kenneth Patchen. "I don't get to play this song enough," Buffett tells the crowd. "I love this song. I really do."
"He makes the set lists," White points out. "He could play it more, but then maybe he can't. What's worse, after all, not playing a song you love, or watching a basketball arena get up and go for more beer while you play the song you love?"
---
Jimmy Buffett: A Good Life All The Way
by Ryan White
(Touchstone)