:
Sponsored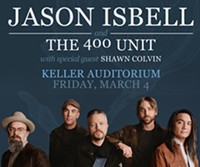 Jason Isbell has established himself as one of the most respected songwriters of his generation. Don't miss Jason Isbell and the 400 Unit, March 4th at Keller Auditorium!
For any of us perennially aspiring writers—who just know we have a book in us, if we could only find the time—Chris Adrian is a terrible foil. A graduate of the Iowa Writers' Workshop and a pediatrician and a Harvard divinity student, Adrian has still found time to write two acclaimed novels and now one of the best story collections of the year. No slouch.
It's hard not to mention Adrian's resumé, not just out of sheer amazement, but also for how deeply it has informed his writing. As with his second novel, The Children's Hospital, A Better Angel draws heavily on material from his day job, but what drives his work is something dealt with more acutely in theology than medicine.
In "The Changeling," a mother explains the attacks of September 11 to her three-year-old son as an illustration of kairos, what theologian Paul Tillich describes as a "point in history in which time is disturbed by eternity." The idea of kairos—that moment that interrupts and forever alters our world—haunts these stories, lingering just off the page as characters' lives are shattered—by falling towers, dead brothers, absent parents, and impending death.
Now, neo-Lutheran, existentialist minutia might not seem like recipe for a page-turner, but these stories are funny and bizarre without giving over to cutesiness or kitsch; they're violent and creepy without distracting from the grief that is the heart of Adrian's writing.
Ultimately, Adrian is interested in exploring loss, both of an intimate nature and on a grand, more abstract scale. His best work accomplishes both simultaneously. "Stab" follows two children dealing with the deaths of loved ones, as they undertake a secret murdering spree of the animals in their neighborhood. In "Why Antichrist?" a teenage boy, egged on by a girl whose father died on September 11, attempts to make contact with his own dead father, only to find himself communicating with the devil.
The darkness in Adrian's writing is balanced with compassion and wit, and the haunting, eerie scenarios he constructs are only eclipsed by the characters—the children, spirits, and Civil War re-enactors—with which he fills them. If we ever got around to writing that book, that's exactly how we'd want it to be.