The French playwright, screenwriter, and novelist Yasmina Reza is best known for Art, her 1994 play in which three characters argue over the artistic validity of a painting that is essentially a white canvas. Art is full of snappy exchanges regarding the meaning of art, and these exchanges shed light on the play's real subject matter: How much bullshit friends are willing to tolerate from one another, and at what point friends stop respecting one another's right to maintain crucial self-deceptions.
Reza's new novel is similar in its approach. Adam Haberberg is ostensibly a novel about a man in the grips of an existential crisis, but unlike other novels of the genre, it offers readers little in the way of insight, consolation, or even straightforward angst. Instead, Reza pens a character whose inner life is tinged with hysteria, whose "crisis" stems in large part from an excess of self-involvement, and whose situation becomes ever more laughable as the book goes on.
Adam Haberberg is a middle-aged writer whose first book has failed to achieve any meaningful success. The love has seeped out of his marriage, he has little interest in his children, and he's just been diagnosed with thrombosis in his eye. He's sitting on a bench at the zoo contemplating his own unhappiness when he chances upon an old acquaintance from school, a thoroughly ordinary woman so insignificant that "it would not have occurred to anyone to describe her at all." Marie-Thérèse insists that Haberberg come to her house for dinner, and realizing that his only alternative is the same unsatisfying domestic routine, he agrees. During the subsequent car ride and dinner Haberberg's anxiety steadily mounts, stirred by the vision of utter ordinariness presented by Marie-Thérèse, a woman who lives alone, obsesses over household appliances, and makes a mean potato omelet.
Reza shows no sympathy for Haberberg: He reads as vain, self-absorbed, and too late in coming to a basic grasp of his own fundamental insignificance. It is in many ways a cruel little book, and the subtext on each page reads, "You're not as important as you think you are. Deal with it." The novel's sole function seems to be to convey this message—and though it does so in breezy, readable fashion, Adam Haberberg is finally a forgettable book that suffers from the same inflated self-importance as its main character.
Sponsored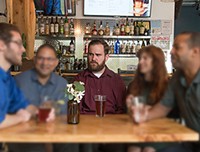 Adults aged 18-35 with good hearing will be paid for their time. Located at the Portland VA Medical Center