There are times when Kenny Mayne is the funniest guy on TV. But unless you watch SportsCenter on ESPN, you probably don't know who he is. As one of the anchors on the daily highlight show, the native Northwesterner (he grew up in Kent, Washington) salts and peppers his commentary with intelligent snark and subtle wit.
Sponsored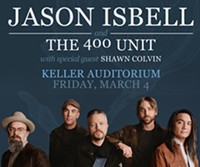 Jason Isbell has established himself as one of the most respected songwriters of his generation. Don't miss Jason Isbell and the 400 Unit, March 4th at Keller Auditorium!
With the release of his book, An Incomplete and Inaccurate History of Sport, Mayne's sense of humor gets a larger playing field to run on as he examines everything from bowling to tetherball and even those spazzy little electric football games from the '70s. But wait—no hacky sack?! "I regret not including hacky sack," he tells me. I asked him to talk about some local legends to make up for the error.
MERCURY:Clyde Drexler.
MAYNE: I liked how he called out the judges on Dancing with the Stars. After taking criticism, he finally just said, "We are not real dancers. We're doing the best we can." That's the closest I've ever seen him come to losing his cool.
Neil Lomax.
He tore it up at Portland State. I was playing (very little) at the time at UNLV [University of Nevada, Las Vegas]. I used to be jealous of his stats. He would throw the ball 70 times a game. I think that was the number of passes in my entire UNLV career.
Bill Walton.
He could have been even greater if it weren't for his injuries. Personally, he's one of the nicest guys I've met.
Ahmad Rashad.
I knew him as Bobby Moore. I recall a game he played for Oregon against Washington State. He went for about 230 yards on the ground that day.
I can't think of any famous baseball players from Oregon.
I know a guy named Jim Swanson, who I believe is the only left-handed catcher to ever sign a major league contract. He played for a minor league team in Portland owned by Kurt Russell's dad. Swannie later owned a comedy club in Seattle. It would draw all the visiting baseball teams. One night I saw Ron Guidry there and got him to sign a bar napkin that said, "Kenny, you took me deep in wiffle ball." All this because of Swannie.