While Hurricane Katrina transformed New Orleans into the most empty, evacuated city in American history, Ethan Clark could only watch in horror from Asheville, NC. Clark had just moved there from New Orleans, and felt desperate to give something back to the city he loved. He turned to what he knew best—its zine culture—and commenced to assemble an anthology of New Orleans zines, which have incredibly been compiled and published in the months since Katrina hit. All the proceeds from Stories that Care Forgot will go directly to the New Orleans Community Bike Project and the People's Hurricane Fund.
Sponsored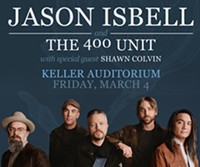 Jason Isbell has established himself as one of the most respected songwriters of his generation. Don't miss Jason Isbell and the 400 Unit, March 4th at Keller Auditorium!
I can't believe this project originated after Katrina, and is already published and in my hands.
When the storm hit, I wanted to do something... anything to help, and I had all these great New Orleans zines. Making a book of them seemed like the perfect way to raise money for someone other than the Red Cross, who were completely bumbling at the time. So before floodwaters had even been pumped out of New Orleans, my PO box was filling with even more zines, and Last Gasp stepped up to publish the anthology.
Do you know about many of the zine artists—have they all left the city?
No. The material covers a large time span, so some of the artists/writers had already moved away, some evacuated before the storm, some lost homes, and some weathered the whole thing.
What is the biggest misconception about New Orleans—both pre- and post-Katrina?
Shelley Jackson, a co-author of the book, had this answer for both before and after the storm:
1. That it's the best place to be.
2. That it's the worst place to be.