Extremely Loud and Incredibly Close
by Jonathan Safran Foer
(Houghton Mifflin)
Extremely Loud and Incredibly Close, Jonathan Safran Foer's follow-up to his best-selling Everything is Illuminated, is immediately notable for incorporating an array of unliterary items into the text: photos of turtles copulating and characters' hairlines, sections written in telephone keypad code, and a flip book of a man jumping in reverse off a collapsing World Trade Center.
The novel centers on nine-year-old Oskar Schell, who loves France and the Beatles and can play Nicolai Rimsky-Korsakov's "Flight of the Bumble-Bee" on the tambourine. Oskar's father died in the World Trade Center attacks and Oskar is naturally a little screwed up by this, lashing out at his mother and having rage-ful fantasies during his grade school's production of Hamlet. Oskar's method of coping involves endlessly cracking jokes and concocting inventions like a retractable building where the elevator stands still and the building moves up and down. When Oskar discovers a key in an envelope marked "Black" in his father's closet, he sets out to visit everyone with the last name "Black" in New York.
Incredibly Close has its shortcomings: too-easy truisms, heavy borrowing from Slaughterhouse-Five, and a rambling subplot about Oskar's grandparents. But it's a sophomore effort from a wildly popular 28-year- old experimental writer, and it proves Foer is more than just a product of the hype machine. His relentless gimmicks remain rooted in plot, character, and plausible emotional mood swings. When Oskar writes fan letters to Stephen Hawking as well as Siegfried, Roy, Jacques Chirac, and Weird Al Yankovic, he is transcendent with joy when he receives a response. Foer includes Oskar's email address on the business cards he hands out on his travels, so I wrote to Oskar to share my expertise on LCD displays. (Another of his invention ideas incorporates LCD technology into an electronic sign on ambulances that flashes the words "GOODBYE! I LOVE YOU!" to let people standing outside the vehicle know if their loved one is dying.) I received a prompt response from the nine-year-old: "Thanks for your offer to help. (LCD displays are awesome.) I'll let you know when it's time to move into action. Until then, Oskar."
Sponsored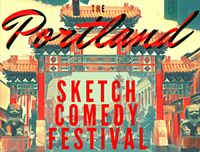 Sketch comedy troupes from all over N. America descend on The Siren Theater for 3 glorious nights.