Flim-Flam Man
by Jennifer Vogel
(Scribner)
B efore moving back to her adopted hometown of Minneapolis, Jennifer Vogel was the editor for the Mercury's sibling paper, Seattle's The Stranger. According to her coworkers, Vogel was cool, calm and collected. Even people who knew her well only had a glimpse into her tumultuous childhood, one that continued to haunt the periphery of her life with visits from FBI agents and her con man dad.
This unflappable tone shapes Vogel's memoir, Flim-Flam Man. In its most simple terms, the story pieces together her mixed up childhood as it veers in and out of the American dream, as her family rises and falls with her dad's boom and bust lifestyle. But ultimately the story is less about her own life than it is a tender, concerned and dynamic portrayal of her father.
John Vogel is a charismatic shyster. He lies, cheats, counterfeits 20 million dollars, and burns down the family's summer home to collect insurance. But at the same time, he profoundly loves his daughter.
Flim-Flam Man unfolds like a mystery. Vogel cleverly lays down snapshots from her childhood with stories about visiting her dad in the Gulf of Mexico, where he has restored a boat, and stories about John abandoning her family in a half-rebuilt farm house, returning only on Christmas Eve, drunk. But unlike other fucked-up childhood memoirs like Bastard Out of Carolina, Vogel lacks the woe-is-me tone. At first, this cool detachment seems uninviting. But as the story unfolds further, Vogel shows cracks in her hard exterior. Because the glimpses into her emotional morass are infrequent, they are much more searing, like a flashlight piercing the darkness of night.
Vogel clearly adores her father, in spite of the pain and confusion he bequeathed to her. She respects his unorthodox and cavalier attitude, and she begins to understand that he is a complicated thug. When Vogel moves into a shabby apartment with a deadbeat boyfriend, her father asks the boyfriend outside for a man-to-man talk. At one point during the conversation, her dad slams a car door across the man's kneecaps. Vogel is disturbed, but also touched by her father's gesture of paternal concern.
Vogel's frank memoir is a fresh addition to the genre because it is unselfish. Her autobiographical tour is only aided by her ability to step outside her own life and view it from afar. PHIL BUSSE
Sponsored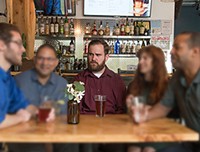 Adults aged 18-35 with good hearing will be paid for their time. Located at the Portland VA Medical Center