I can think of no successful writer who writes them, and no successful critic who writes of them—and yet who doesn't encounter a haiku's 17-syllable, three-line format on the page and experience a satisfied glint of recognition at this Japanese form that does so much with so little? Haiku has virtually no presence in literary scholarship, and yet may very well be the most widely recognized poetic technique in America, if not the world. If you think that's an accomplishment worth celebrating (and you should), now is the time to do it: In what could be an unprecedented moment in our city's young history, Portland enjoys not one, but two haiku-related events this week.
Up first, the Haiku Society of America (hsa-haiku.org) takes the form seriously. This active nonprofit organization has been "promoting the writing and appreciation of haiku in English" since 1968, and today sports more than 800 members worldwide. Based out of San Francisco, the group produces Frogpond, a journal published three times year; sponsors an array of annual contests; and even has a rather excessively long set of bylaws (not written in haiku). The HSA brings Australian poet Amelia Fielden and Society President Pamela Miller Ness to Powell's to read their haiku works, each of which will take about 15 seconds.
Up second, Haiku Inferno does not take the form seriously. Kevin Sampsell's four-person performance squad (which also includes Elizabeth Miller, Frank D'Andrea, and Frayn Masters) writes bizarre, often dirty haikus, and then recites them in hilarious flurries. They'll share such already-classics as Masters' "Low-Carb Haiku" ("There was only bread/at the party. I ate the/cat with full-fat dip"), and Miller's "Avian Flu Haiku" ("Puking sick for days/Struck by lesser-known bird flu:/McChicken sandwich.") Both these haikus, and many more, can be found in the group's new self-titled book, Haiku Inferno, which collects their best works in one slight-but-delightful compendium. You'll read it in 10 minutes, but it will entertain small groups gathered around your coffee table for a lifetime.
Sponsored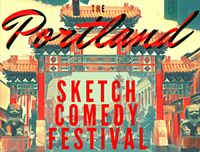 Sketch comedy troupes from all over N. America descend on The Siren Theater for 3 glorious nights.