It's hard to argue that we're living in an era of anti-intellectualism; to catalog the evidence of this would be a depressing voyage into superficial mediocrity. One needs only a sidelong glance at our commander in chief to be reminded of our national celebration of faux-populist Philistinism.
This collective suspension of critical thinking is an issue close to the heart of n+1, a meaty, biannual magazine based out of New York. The debut issue of n+1, published in the fall of '04, opened with a now-famous takedown of America's leading cultural magazines; their critiques provided readers with a negative definition of n+1's mission. Among the charges: The New Republic "lets authority fill the place of thinking"; McSweeney's created a "regressive avant-garde" with a "juvenile, faux-naïf" tone; and the Weekly Standard hawks a confusing but "determined sense of aggrieved entitlement."
But far from settling into the role of cultural sniper, n+1 rises to its own challenges: The magazine isn't one for celebrity gossip or fluffy CD reviews, but neither is it a stuffy, joyless journal. With a decidedly anti-academic tone, n+1 raises the banner, as the New York Times put it, "of creative enthusiasm and intellectual engagement."
(Speaking of anti-academic, one of n+1's recent projects is a pocket-sized publication called What We Should Have Known, an engaging critique of the adverse effects that collegiate influence can have on impressionable minds. N+1 is making WWSHK free to all college freshmen and 18-year-olds.)
This weekend, n+1 Editors Keith Gessen and Chad Harbach will be in Portland for two events, including a launch party for n+1 #6. Highlights from the new issue include a sharp editorial about the rapidly tightening artistic hype cycle; the first English translation of a Russian poet who promises that "Literature Will Be Tested"; and a piercing essay by Wesley Yang about race, social competition, and school shooters.
People singularly devoted to the lowbrow, snarky, and flippant should look elsewhere. In its stead, n+1 provides a provocative antidote to those cultural symptoms—one that is resoundingly more nourishing (and palatable) than the frivolity it sets itself against.
Sponsored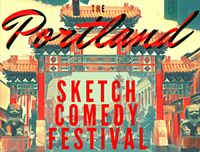 Sketch comedy troupes from all over N. America descend on The Siren Theater for 3 glorious nights.