Harry Shearer—in addition to appearing in multiple Christopher Guest films and hosting the NPR program Le Show—is well-known as the voices of Montgomery Burns and Ned Flanders on The Simpsons. The setting of Shearer's first novel, Not Enough Indians, when considering its motley cast of character-denizens, is not too unlike Springfield. The story even seems to have sprung from a Mayor Quimby-led town meeting.
The town of Gammage, New York, is on the brink of bankruptcy, in a financial quandary so dire that even Wal-Mart rejects a plea from the mayor to open a store within the city limits. Desperate to save their town, the city council takes a hint from the nearby Wowosa Reservation and attempts to open a casino complex. The problem? No Native Americans live in Gammage. It's discovered, however, that there was a tribe living in the area a century ago—albeit one completely decimated by influenza in the 1920s. Via some legal loopholes and some legislative legerdemain, the Filanquonsett Nation is resurrected. Soon, the world's largest casino is erected, Elm Street is renamed Revered Ancestors' Way, and the city council becomes the Council of Elders. It's only a matter of time before the scheme implodes—or can the Council of Elders fend off those out to expose their phoniness?
Shearer's satire is tight and his prose is witty. He manages to keep his "quirky characters" from becoming caricatures by endowing them with personality traits distinguishing them from run-of-the-mill one-noters like "butch lesbian" and "aging hippie." For instance, the local public radio personality is "best remembered for her envelope-pushing melding of verse and gymnastics at the 92nd Street Y, 'Poetry in Motion.'" Sometimes, however, Shearer's descriptions are not this succinct, and only then does
Not Enough Indians
drag. (Perhaps presciently, Shearer provides us with a "Cast of Characters" preface to keep track of who's who.) Despite this criticism,
Not Enough Indians
is certainly worthy of several hours or several days. It's a well-executed satire that, as Jamie Lee Curtis (in one of the dust jacket quotes—no shit) says, "will leave you shaking your head in wonder and worry."
Sponsored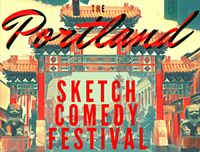 Sketch comedy troupes from all over N. America descend on The Siren Theater for 3 glorious nights.