THURSDAY 10/13
Inconsolable: How I Threw Out My Mental Health with the Diapers
Marrit Ingman sounds like a party and a half! From the press release: "Her journey began with a plate of carne quisada and led to an emergency cesarean, ankyloglossia, colic, gastroesophageal reflux, eczema, Zoloft, Paxil, peanut allergy, suicidal ideation, hepatitis, and a whole lot of pie." In Other Words, 3734 SE Hawthorne Blvd, 232-6003, 7pm, Free
Sponsored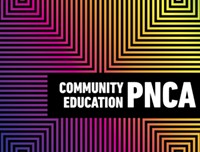 Online art and design classes at the Pacific Northwest College of Art now open for registration!
Ha Jin
When you hear about a novel centered on Chinese soldiers in U.S. POW camps during the Korean War, you might be inclined to take a pass, but Jin's War Trash is super violent and gritty, focusing on two warring prisoner gangs, including one whose leader publicly guts and dissects his enemies. Powell's City of Books, 1005 W Burnside, 228-4651, 7:30 pm, free
Loggernaut Reading Series
Local literary presenters Loggernaut strike again with another stellar themed reading event. The theme this month is "Too Late?" and the writers responding to it are Tacoma, WA poet Rick Barot (The Darker Fall), local author Matt Love (The Far Out Story of Vortex I), and Vinnie Wilhelm, "an itinerant writer and house sitter living temporarily in a converted nunnery in Seattle." Pff. Who hasn't lived in a converted nunnery in Seattle? Gravy, 3957 NE Mississippi, 7:30 pm
FRIDAY 10/14
The Bronte Project
Jennifer Vandever's satiric novel about academic scholarship and modern romance (...zzz...) centers around the collegiate question of whose research is more interesting: one character's Charlotte Bronte thesis, or her rival's Princess Diana paper. Our vote: Neither! Powell's City of Books, 1005 W Burnside, 228-4651, 7:30 pm, free
SUNDAY 10/16
Writers' Benefit for Hurricane Relief
Here's a spoken word/poetry event that you should actually go to. Judith Barrington, Vern Rutsala, David Biespiel, Tiffany Brown, Primus St. John, and about 30 more of Portland's finest wordsmiths throw down at cool bar ACME to raise money for Katrina victims. There will be a raffle and 10% of the bar will go toward the cause, so drink 'em up, and drink 'em up good. Acme, 1305 SE 8th, 230-9020, 3-8:30 pm
Against the Odds
In 1943, Tsunsaburo Makiguchi was imprisoned in Japan for being a "thought criminal." Makiguchi was a Buddhist activist who challenged the Japanese empire until his prison death in 1944. Central Library, 801 SW 10th, 988-5471, 1 pm, free
WEDNESDAY 10/19
Laura Mullen
Baton Rouge poet Mullen's poetry, described this way: "the voice is ragged, syntax is torn, words have been broken into syllable and sound, images dissolve..." sounds 500 times better listened to than read on the page, so treat your ears to something nice tonight. PSU, Smith Memorial Ballroom, 1825 SW Broadway, 3rd floor, 645-7587, 7 pm, free
Sponsored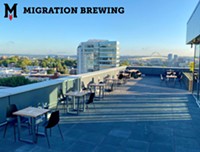 This 9th floor patio boasts stunning views of the city, three mountains, and Portland's West Hills.