Early in Rock On: An Office Ballad, author Dan Kennedy makes a confession. "There is a delusion I have apparently quietly indulged in since, say, age 30, and it's this: that I am still as cool as I was when I was 17," he tells us. When recovering slacker Kennedy gets a high-paying job in the marketing department of a major record company, he sees his coolness finally validated, imagining that he is "basically going to be paid to be some sort of intense über rock 'n' roll person who is marketing loud, fierce developing bands that are not yet registering on the radar of the so-called normal, run-of-the-mill adults in the mainstream."
Kennedy's delusion is abruptly checked when his first assignment is to write an ad campaign celebrating the career of Phil Collins. His very un-rock 'n' roll office is full of overpaid executives and acquiescent lackeys, most of whom are increasingly out of touch with the world of "internets" and "free music downloads." Kennedy does his best to fit in, kissing ass and buying expensive picture frames to decorate his office, until a wave of layoffs sweeps the company, and he finds himself cut loose to write a snarky memoir about his experiences.
Kennedy writes well about things he actually cares about. When he's given access to the Motown photo archives, he is reverent and moving as he describes finding an envelope that contains prints from the What's Going On cover shoot, or a snapshot of a young Jack Nicholson smoking a joint at a Stevie Wonder recording session.
He can also be quite funny, usually when he is admitting to his own unfitness for his job ("I will only say this about my new hair situation: The highlights were supposed to look much more rock 'n' roll than this.") The book, though, is indifferently structured, fluffed up with meant-to-be-funny asides like suggested lyrics for "any all-girl rock band trying to win over the middle-aged white suburban male demographic." ("I think your hair's still rad/You and your friends still seem like rockers.") One guesses that Kennedy had a little trouble meeting his word count—which would also explain why the book is riddled with "I mean"s and "I think to myself"s. This flabbiness keeps the book from being as funny as it should be, and its lazy structure dilutes what had the potential to be a pretty scathing send-up of a bloated and out-of-touch industry.
Sponsored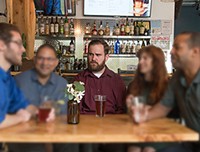 Adults aged 18-35 with good hearing will be paid for their time. Located at the Portland VA Medical Center