Rough Living: Tips and Tales of a Vagabond is a self-published tome by Pacific Northwesterner Chris Damitio. The first half of the book consists of handy candid advice about living on the street, in the wilderness, your car, or just couch surfing. Notable nuggets include a section on hitchhiking etiquette from both perspectives and how to roll a cigarette out of the tobacco at the bottom of found butts. Whether taken as practical advice or appreciated by the vicarious "armchair adventurer," as Damitio likes to say, the contents are practical and entertaining.
The second and longer section of the book is a lyrical journal of Damitio's adventures, both domestic and abroad. In them, the reader gets to see many of the tips and dangers spoken of in the first section played out in nonfiction prose. As someone who chooses luck and adventure over the indenture of employment, Damitio's vignettes take place among the temporary communities of traveling foreigners and wizened urchins. As Damitio explores the planet, there's a nice blend of jovial drunk and stoned adventures, and serious thoughtful reflections.
Like the Jacks, Black and Kerouac, Damitio's style is both entertaining and industrial. There are occasional moments that slip into the Kerouacian touristy arrogance, such as the section in which Damitio smugly takes in a wealthy, vacationing couple by wondering if he could have a wife as beautiful as the woman if he were to afford as large a jewel as the one she sports on her finger. Lao-lao whiskey, opium, and pot all thread their way into the narrative, and Damitio's enthusiasm for intoxication is just one of the many facets of his political philosophy that are revealed in the book.
Like a hippified action adventure hero, Damitio's tales of travel show the reader how to be resourceful (he got his plane fare to Asia at the slot machines) and heroic (he helps save women from a lewd tourist, then saves the drunk tourist's life). Rough Living is a perfect example of the old road romance made contemporary. For those tempted to test their luck, it's addictive, like missives from an eloquent friend abroad. MARJORIE SKINNER
Sponsored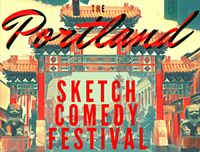 Sketch comedy troupes from all over N. America descend on The Siren Theater for 3 glorious nights.

by Chris Damitio (Self-published)