Screw LeVar Burton. We don't need that proto-Urkel anymore. We've got Wordstock now. Now in its second year, the first-class lit fest has slimmed down to a svelte three days of writerly awesomeness. This year's event has more authors than we could possibly list here (for instance: Charles D'Ambrosio, Christopher Moore, Donald Hall, Ariel Gore, David James Duncan, Ursula K. Le Guin, and Vendela Vida), but we've rounded up a few of the sure bets to help you navigate your literary weekend getaway at the Oregon Convention Center. It's only three bucks to get in (two, if you produce a student ID), which is good, because you'll be plunking down serious cash at the book fair, where over 100 publishers, bookstores, and other bookworms will entice you with their wares.
Besides the Convention Center's Bookapalooza, there are two other Wordstock events worth noting. Live Wire!, a radio variety show broadcast from the Aladdin Theater, puts together the wackiest lineup we've ever seen: Chuck Barris and Steve Almond (see below), graphic novelist Jessica Abel, slam poet Taylor Mali, and Art Alexakis, lead singer of wayward rock group Everclear. Remember—you can't spell "random" without "rad." Then, to wrap things up, Ira Glass of NPR's This American Life will talk about hosting and producing the best radio show in America, as well as his upcoming film and TV projects.
Sponsored
Sketch comedy troupes from all over N. America descend on The Siren Theater for 3 glorious nights.
All this in one short weekend? Better put that book down, LeVar—you're going to need your rest.
STEVE ALMOND
The Boston-based Almond has achieved success via what is essentially erotic short fiction (My Life in Heavy Metal, The Evil B.B. Chow) and one book-length, oddly dark meditation on candy factories, Candyfreak. His only "novel" is the newly published relationship saga, Which Brings Me to You, a "novel in confessions" written entirely in letters with the cute, quirky author Julianna Baggott. With such an unorthodox, rambling body of work behind him, it's tempting to say Almond has never quite reached the potential demonstrated by his wonderful prose—but then, unorthodox or no, nothing he's published (including the annoyingly addictive Which Brings Me to You) has ever been anything less than smart, witty, and riveting (and every so often, pretty sexy). So it's hard to complain too much, though one suspects he's still got something truly outstanding ready to burst out of him. Or maybe his writing will always just be pert, pop-y, and fun; either way, you could do a lot worse. And don't miss his reading. He's fucking hilarious in a live setting. JWS
Powell's Stage, Exhibit Hall C, Sun April 23, noon
CHUCK BARRIS
James Frey didn't start the fire; people have been penning dubious autobiographies since, roughly, the first memoir ever written. Few have been as riveting or farfetched as Chuck "Chuckie Baby" Barris' Confessions of a Dangerous Mind, though. The premise is now urban legend: Barris created The Newlywed Game, The Dating Game, and The Gong Show (so far, all true). But when ABC would send Barris to exotic locales to chaperone his contestant's dates, Chuckie Baby would slip away to work for his other employer, the CIA. Since the CIA barely acknowledges their own existence, they never verify or dispute who's on payroll. This makes it very easy for Barris, then, to claim to have infiltrated civil rights marches, assassinated communist revolutionaries, and crossed international borders with vials of microfilm tucked in his poo-poo. (Then he'd rush back to Burbank for lunch with Bob Eubanks.) Is any of it true? Take a guess; Barris' official line on the matter these days is, "I can't really confirm or deny it." The awesome part is that he still acts like it's true, even though he knows that we know it's not. The other awesome part is that he's hardly what you'd call a "man of letters," but somebody over at Wordstock loved him so much that they're flying him in anyway. CB
Borders Stage, Exhibit Hall C, Sat April 22, noon
CUPCAKE BROWN
Cupcake Brown is, as Oprah deems her, "a phenomenal woman." Don't dismiss Brown for her association with Oprah, though—the phrase is fitting. On the Wordstock docket mainly for the recent release of her memoir A Piece of Cake, Brown's tale reads like a novel. As a teenager, she was a textbook case of an urban black woman having fallen through the cracks. Already a sexual abuse survivor at 13, she was quickly (and intensely) dabbling in prostitution, heavy drugs, and gang warfare. 20 years and over 10 years of school later, she's pulling six figures as a San Francisco attorney and spouting motivational taglines like, "You can't say it's impossible if you haven't tried." But, unlike many inspirational speakers, Cupcake Brown is funny, real, and—here's the inevitable cheap joke about her name—she's very sweet. WG
Borders Stage, Exhibit Hall C, Sat April 22, 4 pm
DAVE EGGERS
Just back the fuck off of Dave Eggers, all right? Every time I mention how much I love A Heartbreaking Work of Staggering Genius, or how much more I love You Shall Know Our Velocity, or how can't-sleep excited I am that he and Spike Jonze are adapting Maurice Sendak's Where the Wild Things Are, everybody gets all snotty—just because he's blown up something huge and is the lightning rod for McSweeney's, everybody seems to have forgotten that Eggers is one hell of a writer, smart and honest and nimble and exuberantly expressive. I love Dave Eggers, and I'm sick of haughty nerds telling me I shouldn't, just because he's all popular, or because he's too "cutesy" or "earnest" for his own good. You know what? You're too cutesy and earnest for your own good, asshole. Dave Eggers, meanwhile, is awesome. EH
Powell's Stage, Exhibit Hall C, Sat April 22, 4 pm
JOYCE CAROL OATES
Not even Oates' most ardent fans can quite say for sure how many books, short stories, poems, plays, and articles she's written all told, but it's somewhere in the vicinity of five billion. Naturally, in a glut like that, there are some duds, but there are some gems as well, like her trilogy of novels about different economic classes (A Garden of Earthly Delights, Expensive People, and the National Book Award-winning Them). The sheer quantity of her output has prevented her from receiving the critical respect her best works deserve, but that doesn't seem to matter to her. She is a pure writer in that she writes because she has to, and not because she thinks people want her to. In person, that quality translates into one of the most engaging, unpretentious voices in all of literature. JWS
Borders Stage, Exhibit Hall C, Sat April 22, 3 pm
JOHN REMBER
Okay, so yeah, this dude was my writing professor in college, and yep, this blurb is definitely a conflict of interest. But still: Even if I didn't know Rember, I'd be a fan of his writing. His latest, Traplines: Coming Home to the Sawtooth Valley, is a melancholy, carefully rendered memoir. Rember crafts incisive fiction and sharp, warm nonfiction—he's a writer comfortable in both his Western roots and his sometimes challenging philosophies. And if I can say that—after the dude tore into my writing something fierce, and made my life as a halfwit undergrad especially difficult—then I can't imagine what somebody who didn't have all that baggage would say. EH
Benson Hotel Stage, Exhibit Hall B, Sat April 22, 11 am
R.L. STINE
R.L. Stine might be most famous for his mid-'90s Goosebumps series, which still terrorizes nerdy, glasses-wearing tweens. But fuck Goosebumps—it's all about Fear Street, yo! I tore through many a Fear Street novel as a nerdy tween, and I remember the following: The protagonists were usually hot high school chicks (which was awesome) and there was usually a killer who was going around and killing (which wasn't as awesome as the hot chicks, but still pretty rad). In fact, the painted covers sometimes featured not one but two hot girls—looking like refugees from The Baby-Sitters Club or Sweet Valley High, but in negligees!—who were in grave peril from a killer or something, but still looked hot. Anyway, if that's not great literature, I don't know what is. Thank you, Wordstock, for finally recognizing the literary genius of R.L. Stine, and thank you, R.L. Stine. Thank you for Fear Street. EH
Target Children's Stage, Exhibit Hall B, Sat April 22 noon, Sun April 23, 1:10 pm
GORE VIDAL
Despite the fact that the man's nearing 81, Gore Vidal continues to write, work in film, and piss people off with a head for political dissention, low patience for the unjust, and the wily cantankerous verve of an old gay man that's been fucked with all his life and doesn't think twice about gnashing back. Some career highlights: A longtime outspoken liberal, Vidal once called then-President Ronald Reagan a "triumph of the embalmer's art"; he wrote the original script for Caligula; he appeared as himself in Fellini's Roma; and co-stared in Bob Roberts with Tim Robbins. Oh and he's written some novels, books, and essays. AG
Borders Stage, Exhibit Hall C, Sun April 23, 4 pm
Wordstock officially kicks off Friday, April 21, but all the readings and the book fair go down at the Oregon Convention Center, 777 NE MLK, Sat-Sun, 10 am-5 pm, $2-3; Live Wire!: Aladdin Theater, 3017 SE Milwaukie, Sat 8 pm, $15-17; Ira Glass: First Congregational Church, 1126 SW Park, Sun, 7 pm, $20-25. For a full schedule or advance tickets to any of the events, check out wordstockfestival.com
Sponsored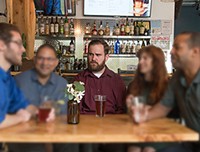 Adults aged 18-35 with good hearing will be paid for their time. Located at the Portland VA Medical Center