There is little debate that George Saunders is one of the preeminent short fiction writers working today; wildly imaginative, uniquely funny, and deeply humanistic, his stories read like nothing else in contemporary fiction. But after three collections of short stories, Saunders' fans have been chomping at the bit to see what else he could do, how far he could spread his wings. (The vastly disappointing novella, The Brief and Frightening Reign of Phil, notwithstanding.) Therefore, it's no small affair that Saunders has just published The Braindead Megaphone, his first collection of essays. But before you get too excited, you might want to take this opportunity to ratchet down your expectations just a little. Maybe a little bit more than that... there. That'll be fine.
Comprised of travel essays, think pieces, and humorous bits written for publications such as GQ and Slate, it seems like Megaphone would be a sure-fire hit. Or, at least, not so hit or miss. Despite having one of the most distinctive voices in fiction today, Saunders seems to be grasping to discover his best tone here. The book finds him using fairly standard journalistic approaches in his essay about Dubai; cutesy "once upon a time" language in his piece about the Mexican/American border; and a Steve Martin-ish vein of New Yorker humor in shorter pieces throughout. Rather than adding up to a new approach or spin on nonfiction, this lack of voice makes Megaphone simply feel half-baked.
There are moments where the book really works; the titular essay is a thought-provoking piece about the media's effect on our national discourse (hint: it's not a gushing fan letter), and "The United States of Huck" is a loving homage to Mark Twain's masterpiece.
Unfortunately, these moments do not appear frequently enough: For every substantial essay, there are several pithier stabs at humor, which, given Saunders' gifts, are painfully unfunny. The essay in which he plays the wholly ignorant American on a trip to England falls flat, and the piece written from the point of view of a dog that wants to bite his owner's penis is embarrassingly lame.
But perhaps fans like me are partly to blame for The Braindead Megaphone. After enjoying Saunders' brilliance in one form, we demanded that he excelled at even more things, which is hardly a generous response. So, personally, I'm going to shelve this book of essays and sit patiently for a new collection of what Saunders does best.
Sponsored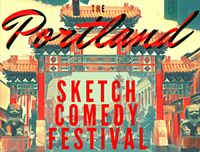 Sketch comedy troupes from all over N. America descend on The Siren Theater for 3 glorious nights.