Seattle resident Ryan Boudinot edits DVDs at Amazon.com to pay the bills, and his debut story collection, The Littlest Hitler, burns with the slick techno jargon of corporate drudgery. "I'm getting a consultation clause into the contract," says Bette in "Bee Beard," talking to coworkers while wearing, as the story's title suggests, a beard of living bees. In typical Boudinot fashion, the other employees have practical concerns regarding the bees ("Aren't they going to miss their hive?" somebody asks), but care little of the philosophical ramifications of such an act. In another story, "The Sales Team," salesmen get away with murder and rape in the name of commerce. In "Contaminant," a lab tech at a pea packing plant is chagrined when his company hires a zombie to work on the production line, certain the undead man will move too slowly for the high-speed rigors of factory life.
Boudinot's gifts lie not in spinning beautiful sentences, but in placing beautifully ordinary details in the thick of extraordinary situations. When he isn't immersed in the business world, he heads for that other mecca of mundanity, suburbia. In the collection's title story, a young boy's father helps him assemble a pitch-perfect Hitler costume for Halloween. The only snag in this excellent plan occurs when the boy gets to school... and finds that one of the girls came as Anne Frank. In "Civilization," a young man is selected by the government to murder his parents as part of his patriotic duty.
Most of the tales in Littlest Hitler are entertaining but weightless, all premise and literary-hip juxtaposition over substance. Only when Boudinot applies his wry pen to the real world do things get resonant. The stunning "So Little Time" follows three boys as they play D&D and work a summer job to save their money for the annual science-fiction fair. A semisweet riff on the hilarious wonders of adolescent geek-speak, the tale manages to culminate in a shocking but plausible wakeup call from the naive dream of childhood innocence, in the process exposing an emotional side of Boudinot that belies his typical reliance on plot-driven gimmickry.
Sponsored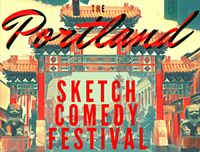 Sketch comedy troupes from all over N. America descend on The Siren Theater for 3 glorious nights.