Arthur Nersesian uses New York City not only for a mailing address, but as a perennial setting for his stories. His previous novels—from 1997's terrific debut The Fuck-Up to 2004's Unlubricated—take place in a recognizable-yet-unfamiliar New York. While the settings may be Nersesian's own private Lower East Side and Tribeca, there are still enough points of reference for a reader (and a character) to avoid losing his way.
Not so in Nersesian's latest novel, The Swing Voter of Staten Island. The protagonist, Uli, may very well be in Queens heading toward the East Village as the book opens, but reader and character go easily astray—in a way that's good for the reader, if not for Uli. Queens here seems much more barren than usual; western Brooklyn teems with Soviet architecture while the Manhattan skyline is mainly "Germanic"; pit bulls abound. It's apocalyptic, for sure, but it's also November 1981. So why does New York resemble Area 51?
The New York Uli currently inhabits is, in fact, New York, Nevada. These desolate five boroughs comprise Rescue City, an interim refuge center. Uli, however, is currently amnesiac. His expedition through this wasteland is also the reader's—and it's an exciting one. The thrill of The Swing Voter—and most of Nersesian's books—is in discovering what lies around each corner. Familiar New York sights—Coney Island and Alphabet City, for instance—permeate the action, as do extraordinary occurrences. A dromedary lopes across Avenue A just before Uli receives his ration of food (rice with shredded Spam and lentils). As Uli eats, "an ugly man in a skimpy dress with pancake make-up sang 'The Tracks of My Tears' by Smokey Robinson and the Miracles."
Any of Nersesian's novels will be unlike anything you've ever read before, but The Swing Voter of Staten Island will be unlike anything you've ever read by Arthur Nersesian. A bona fide innovator, his books—particularly this one—merit close attention, perhaps even multiple reads. Indeed, you can read Swing Voter once to admire the author's agility and then again to decode the book's meaty substance. After familiarizing yourself on the first read with Nersesian's mirage-like New York of the Nevada desert, one may finally be ready to reenter the city's barren streets, rifling through its haunted mysteries.
Sponsored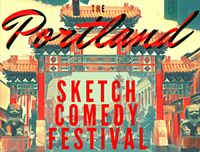 Sketch comedy troupes from all over N. America descend on The Siren Theater for 3 glorious nights.