"I'll forever go down in history as the person that wants to have sex with windows," says Rachel Rosenthal, referencing a joke that blew me away during her performance with hip-hop improv troupe North Coast at the 2016 Stumptown Improv Festival. Recapping that night for the Mercury, I noted that combining hip-hop, improv, and beatboxing "sounded like a TERRIBLE idea," but North Coast won me over with their energetic, surprising skits. This month, Rosenthal will be the first artist in residence at downtown Portland's Siren Theater, where she'll teach improv classes in North Coast's style. Ahead of her residency at the Siren, Rosenthal took a moment to talk to the Mercury about her history and the genesis of hip-hop improv.
Sponsored
Sketch comedy troupes from all over N. America descend on The Siren Theater for 3 glorious nights.
MERCURY: I want to take your class, but I'm afraid of beatboxers. Can you tell me some positive stuff about beatboxers that will change my preconceived notions?
RACHEL ROSENTHAL: Ha! North Coast has actually gotten gigs because someone overhears our beatboxer and asks what we're doing. It's like working with any other live accompanist. It's so impressive what they can do. They really work on it as a craft. On the flight home from Portland this year, I was sitting next to Ethan "Exacto" Scott—the guy you saw with us—and he was trying to improve my kicks because I'm trying to learn to beatbox. I was like, "We can't do this on the airplane! It's so annoying." But he totally disagrees. He's like, "This is my job. This is what I do. It's totally fine." I was like, "No. No one wants to sit near a person on an airplane that's beatboxing."
How did the idea of hip-hop improv get going?
James "Robo" Robilotta, the founder of North Coast, was at the DSI Comedy Festival and he saw a Chicago team called The Beatbox perform. Their style was different than ours is now—separate scenes and rap battles. But that gave James the idea of combining rap and long-form improv. So, in 2009, he posted on an online board called the Improv Resource Center, saying that he wanted to get freestyling improvisers together for an experiment. That's where North Coast began.
How did you come to join North Coast?
I performed improv for years in Boston before moving to New York. The artistic director of ImprovBoston at the time, Will Luera, contacted a few New York improvisers to put in a good word for me. Right away, I got an invite to sit in with awesome (now defunct) musical improv team VEAL and James Robilotta was also sitting in. After the show he asked me, "Do you rap?" And I responded, "When I'm drinking!?" We walked across the street to a bar and—a few drinks in—I was freestyling like an idiot. I've been on the team ever since. Thanks, alcohol!
Is hip-hop improv more prevalent on the East Coast? Are there other teams that do this?
The groups I know of are mainly formed from classes we've taught. There are probably two improv teams that have formed out of our students in New York. There's one in Boston because we taught classes there. It's basically spreading and growing through our classes which is very cool.
Can you teach me to sound like a Beastie Boy in four weeks?
Probably not like a Beastie Boy. Maybe like a Beastie Child. I can teach you the skills to freestyle, but rapping off the top of your head is a muscle. You have to work that muscle. Right now, I perform every single week so my muscle is very warm.
You were on an episode of This American Life—one I immediately remembered—about how your identity was stolen repeatedly, over a period of years, by your romantic partner. I was surprised because you're so funny and the story, while very relatable, was so devastating.
Thank you. I almost pulled out of that because I'm a comedian. I don't want to be known for this horrible story. It ended up being basically a two-hour therapy session with the world's most famous radio host. I, like, cried the whole time.
Sponsored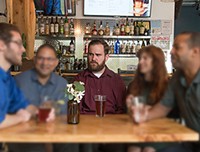 Adults aged 18-35 with good hearing will be paid for their time. Located at the Portland VA Medical Center