One of the more ambitious small-stage efforts of the year is, ironically, a show titled Please Underestimate Me. The ensemble stage piece is based on creator Jay Flewelling's printed book of essays, also available as an audiobook of the same name. Using examples from his life, Flewelling explores the idea that people have underestimated him time after time—and that error has allowed him to succeed by proving them wrong. In each of the performance's vignettes, Jay takes the audience with him as he reflects back on his life and the various ways he's been underestimated—or made incorrect assumptions himself.
If you've been around Portland's comedy scene for any length of time, you've seen Flewelling. He's a fixture at Curious Comedy Theater, appears on many other stages performing improv and stand-up, and is an accomplished storyteller with credits on shows like The Moth. Flewelling seems to be everywhere these days; he's a warm-hearted, genuine person who's realized that the character he's best equipped to play is himself. Luckily, that character is also delightful to watch. This is Flewelling's second original work for the stage, and it's clear he's doing what he loves and has no plans to stop anytime soon. He's still relatively young, and as he ages and his experiences deepen, a broadening perspective should make his material even more compelling.
Working closely with director Jason Rouse (The 3rd Floor, Sweat, Wonderland, Live Wire!) on Please Underestimate Me, Flewelling transformed his solo stories into ensemble pieces featuring a diverse cast whose characterizations and physical presence allow Flewelling to explore his essays in greater depth. Together the cast makes the stories richer and more engaging than if told by one person with a microphone.
In this staged version, Flewelling is joined by Scott Engdahl, Stephanie Cordell, Shareen Jacobs, Savira Kambhu, and Rose Bonomo who all play versions of Jay, as well as other characters in the stories. Cameron Gable accompanies the show on guitar, and Blake Wales is seamlessly integrated into the show as an ASL interpreter who's present throughout the show, and as engaging to watch as the rest of the cast.
Sponsored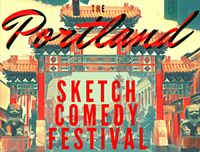 Sketch comedy troupes from all over N. America descend on The Siren Theater for 3 glorious nights.