Craft Beer 2020
First Annual Winter Beer Fest
Suttle Lodge wades hip-deep into the frothy fray of Oregon beer festivals with their snow-dusted-yet-supremely-delicious showcase of winter beers in the Deschutes National Forest, featuring plenty of grilled snacks, cozy fires, and of course, offerings from many an Oregon-based brewery. Tickets include a limited edition mug and 10 tokens, and a portion of the proceeds benefits Oregon Adaptive Sports. (Thurs Jan 30–Sat Feb 1, 1 pm, Suttle Lodge & Boathouse, Sisters, $20)
Sponsored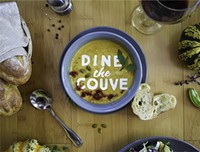 Experience the bounty of northwest flavor with special menus at Clark County restaurants all month.
Beer Belly Dinner
EastBurn's Beer Belly Dinners are a reliably delicious dining endeavor, pairing their cuisine with local breweries and ensuring an amazing and filling night of dining. This meal's four-course collaborators are Threshold Brewing and Blending, and representatives will be present to answer any questions about their beers and tell the stories behind their creation. (Tues Feb 4, 6:30 pm, EastBurn, $48)
Beer Cider Love
Hair of the Dog Brewing Company once again presents this lovely collision of beer and cider, with Fort George Brewery, E.Z. Orchards Cidre, and Hair of the Dog co-hosting a six-course, custom-curated dinner with menu items crafted to go perfectly with their offerings, including citrus-cured salmon, crispy chicken with pear honey, sweet onion and caraway soup, and more. (Mon Feb 10, 6 pm, Hair of the Dog Brewing Company, $70)
Festival of the Dark Arts
Astoria's day-long party in honor of the best of all beers: the stouts. The fest includes not just a wide array (over 70) of some of the most flavorful and adventurous dark beers on tap, but "roaming artistry" that includes, if the photos on this year's page are any indication, weirdos on stilts, a bunch of bands, people playing with fire, and... (squints) a blacksmith forging things? (Sat Feb 15, 11 am, Fort George Brewery + Public House, Astoria, $40-55)
Star Brews Festival
The Redd is "transformed into an intergalactic playground" for beer lovers from all galaxies, even the ones that end their nine-part sagas on a thoroughly messy and mostly unsatisfying note. Ahem. But you'll only find intriguing and delicious notes in the many beers and ciders made available at this festival for craft brews. Includes photos, live music, and food. #RoseTicoDeservedBetter (Sat Feb 15, 6:30 pm, The Redd on Salmon, $39)
Zwickelmania!
Prime your liver for Zwickelmania, the annual event where more than 100 breweries open their doors for your drinking pleasure, with free samples, cornhole, tours, and beer releases. It's kinda like an open house for beer, but the house is essentially all of Portland and select breweries outside the city. (Sat Feb 15, 11 am & Sat Feb 22, 11 am, various locations and prices)
6th Annual Brewstillery Festival
Some of the best breweries and distilleries in the country gather under a big tent in front of StormBreaker for a daylong festival pairing the best spirits with the best beers, along with live music all day long. Participating pairing teams include Breakside and Freeland Spirits, Migration and Captive Spirits, Pono and Aria, Ex Novo and Rolling River, and many more. (Sat Feb 29, noon, StormBreaker Brewing, St. Johns, $25-45)
Bridge to Brews
2019 was the last year this beer-soaked tradition could go over the Fremont Bridge. Now it's 2020, time for new twists on tradition and new beers to try when you're finished running (or shuffling, no judgments here, this thing starts early) and getting into enjoying a rewarding pint (or four) as well as food, live music, and more. Registration includes tasting tickets that let you sample beers, ciders, wines, and spirits from local makers. (Sun April 5, 8 am, Tom McCall Waterfront Park, $8-79)
Cinco de Micro
Hey, look at Salem getting in on this craft brew beerfesting wonderfulness! The Cinco de Micro provides you, upon your entry, a commemorative glass mug and four tokens with which to freely sample some of the Northwest's best spring-release craft beers. Proceeds benefit the Boys & Girls Club of Salem. (Fri May 1, 4 pm, & Sat May 2, 2 pm, Salem Convention Center, Salem, $25-40)
The Craft Beer and Wine Fest
Journey over the bridge to Esther Short Park for one of Vancouver's biggest celebrations of craft brewing and craft... wining? Winering? There's a word for it (probably "winemaking") but the point is this: There's going to be a full weekend's worth of great things to drink, great food to eat, and great music to dance to. (Fri June 12, 5 pm, Sat June 13 & Sun June 14, noon, Esther Short Park and Playground, Vancouver, $22-199)
Portland Beer Week
The annual celebration of all things beery and beautiful in the Pacific Northwest returns in grand style, stretching the definition of "week" to encompass 10 days and sprawling all over the city like a freshly shaken can of lager popped with no regard, featuring a wide range of events at notable breweries, hotels, theaters, and restaurants. Visit pdxbeerweek.com for a complete list of events and locations. (Fri June 12– Sun Jun 21, various locations)
Portland Craft Beer Festival
The Portland Craft Beer Festival once again dedicates an entire weekend to the celebration of Portland's many contributions to craft beer culture. Does that mean it's basically an IPA fest? Probably. But there are a lot of surprises for your palate to enjoy. Come down and enjoy delicious food and and—of course—beers from some of the Northwest's very best. Entry includes a cup and 15 beer tickets, good for the full weekend. (Fri July 3-Sunday July 5, noon, The Fields Neighborhood Park, $30-35)
33rd Annual Oregon Brewers Festival
The Northwest tradition returns to the Waterfront to serve over 85,000 attendees some of the finest beer the world will ever drink. It's free to enter, but tasting packages start at $20 and include a mug and 10 tokens. Visit oregonbrewfest.com for a list of brewers. (Wed July 22–Sat July 25, noon, Tom McCall Waterfront Park, FREE)
Sponsored
This 9th floor patio boasts stunning views of the city, three mountains, and Portland's West Hills.