Craft Beer Issue 2018
To kick off your epic beer crawl, why not pop into the Lucky Lab? The Portland brewpub chain's first and best location feels a bit like a barn, and is covered with photos of beloved puppers. It's a big, spacious venue with plenty of pub food, so it's the perfect place to meet up if you have a dozen friends in tow. Every time I go, at least two political groups are holding meetings, while others play board games. My favorite thing to drink there this summer is the framboise—a pretty pink beer that's fruity and light and just a tad bit sour. Also very drinkable: the Stumptown Porter. It's light and creamy for a porter, and the coffee flavors are subtle and nuanced. Lucky Labrador Brewing Company, 915 SE Hawthorne, Mon-Thurs 11 am-11 pm, Fri & Sat 11 am-midnight, Sun noon-10 pm, luckylab.com
Sponsored
Sketch comedy troupes from all over N. America descend on The Siren Theater for 3 glorious nights.
Next you can head north to Cascade Brewing, the best damn spot for sours in Portland. The brewpub feels a bit upscale, with quality table service and excellent hors d'oeuvres. I recommend getting the baked brie and pairing it with Melonius Blonde, which has an aftertaste that's a lot like cantaloupe right near the rind. Also worth trying: the Sang Royal 2015. It's a fascinating blend of flavors—a blend of sour red ales aged in wine barrels, so it has some lovely oaky and pinot noir flavors. As a lover of sours and reds, I found it a match made in heaven. Cascade Brewing Barrel House, 939 SE Belmont, Sun & Mon noon-10 pm, Tues-Thurs noon-11 pm, Fri & Sat noon-midnight, cascadebrewingbarrelhouse.com
Since you're in the area, head over to my favorite bar on the Eastside: Loyal Legion. With 99 beers on tap and a great system for setting up tasting trays, you can have a grand old time schmoozing with your friends and pretending to be beer snobs. The classy décor only adds to the appeal—backlit whisky bottles and beautiful woodworking make this a great place for a date or something more casual. Just make sure to tip the bartender well if you decide to go for a tasting tray—I'm sure they're a pain in the ass to prepare. Loyal Legion, 710 SE 6th, Sun-Thurs 11:30 am-midnight, Fri & Sat 11:30 am-2 am, loyallegionpdx.com
By now you might want something a bit more laid back, so drag your tipsy self over to Beer. This little bar has a carefully curated and constantly rotating taplist (with a name like that, it'd better!) and it's open late. The bartenders are super cool and nerdy—when I went, we talked about our Dungeons & Dragons campaigns. Don't like what's on tap? They have more than 100 bottles and cans to choose from, and there's chill outdoor seating, so if it's warm outside, grab a can of the Stiegl Grapefruit Radler and watch the world go by—you'll feel like you're in an oasis all your own. Beer, 1410 SE Stark, Mon-Thurs 11 am-midnight, Fri & Sat 11 am-1 am, beer-portland.com
A modest tasting room set up in a newer building, Natian Brewery is worth checking out. Not just because they have a chameleon on site—tucked away in a glass terrarium in a corner—but because the brewery (which makes its beers a few blocks away) has some seriously tasty options on tap and an amazingly cheap happy hour that lasts from 3 to 4 and again from 6 to 7. You can get pints for $3, and 5-ounce tasters for $1.50! I typically hate IPAs—they're too bitter—but Natian has one of the first I've ever enjoyed. The Earl Grey IPA balances out its bitterness with citrus and bergamot. The Irish Water Imperial Golden Ale is worth tasting, too: Although it's a powerful beer at 9.2 percent ABV, its flavors are subtle and clean, with notes of honey. But Natian is proudest of its milk stouts. The brewery has kept some kegs of milk stout from each year of its short history, so you can compare their flavors from 2014 till now. This year's batch tastes quite a bit like cold-brew coffee—meaning it's the best of both words for Portland's coffee- and beer-obsessed drinkers. Natian Brewery Tasting Room, 1306 E Burnside, Mon, Wed-Fri 2-10 pm, Sat & Sun noon-10 pm, natianbrewery.com
---
Still Thirsty?
A ridiculous number of breweries and beer joints await you in this neighborhood. From north to south:
Burnside Brewing (701 E Burnside)
Mt. Tabor Brewing (124 SE 11th)
Wayfinder Beer (304 SE 2nd)
Base Camp Brewing (930 SE Oak)
The Growler Guys (816 SE 8th #109)
Modern Times' Belmont Fermentorium (630 SE Belmont)
Rogue Eastside Pub and Pilot Brewery (928 SE 9th)
Hair of the Dog (61 SE Yamhill)
Scout Beer (1516 SE 10th)
Sponsored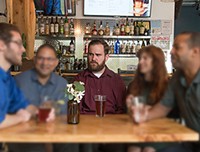 Adults aged 18-35 with good hearing will be paid for their time. Located at the Portland VA Medical Center